Home

⇒
📌Cezanne Paul

⇒
Description of the painting by Paul Cezanne "Still Life. Jug and Fruit
Description of the painting by Paul Cezanne "Still Life. Jug and Fruit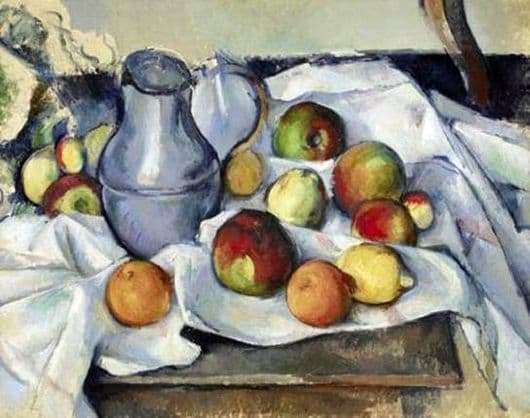 The canvas written by Paul Cezanne, entitled "Still Life of Jug and Fruit" shows how on the table, a white sheet is quite carelessly laid, on which fruit is laid and a jug stands.
It is worth noting that the artist is fairly easy to write and does not go against the overall contrast and technical composition. As for the color range, it can be noted that it has a fairly neutral color and consists of white, yellow, and sometimes red colors.
All the tones that the master used are very warm, despite the fact that they are intermittent, precisely because of such strokes, the picture acquires a certain dynamism. At the same time, the canvas seems to be divided horizontally, from the bottom of the canvas one can notice some juiciness of colors and warm contrast, whereas in the upper and left parts there is a colder atmosphere, which is facilitated by the presence of a jug.
Thus, there is a very clear contrast between the cold jug and the warm fruit. It is worth noting the artist's masterful letter, thanks to which one can notice even the barely noticeable bends of the canvas, thanks to which the whole image becomes as realistic as possible. It also shows that a lot of work has been done on tonal reflexes and shadow interaction. If you look closely, you will see that almost every object shown in the figure casts a barely noticeable shadow.
Using a high level of his technique, the master managed to transfer the smallest transitions of one color of paint to another, and to do this very qualitatively and almost invisibly at first glance. Thus, the perfection and ideality of geometric figures are accurately conveyed; one can feel their volume and even to some extent three-dimensionality. The artist unobtrusively plays with the visualization of objects, thereby achieving a unique texture.





(
2
votes, average:
3.00
out of 5)
Description of the painting by Paul Cezanne "Still Life. Jug and Fruit