Home

⇒
📌Cezanne Paul

⇒
Description of the painting by Paul Cezanne "The Coast of Marne"
Description of the painting by Paul Cezanne "The Coast of Marne"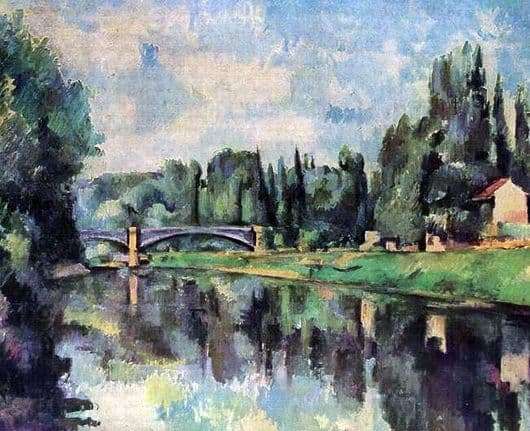 Cezanne is called a post-impressionist – learning from the Impressionists, spending time in their society, participating in their exhibitions for some time, he still remained himself without acquiring the habits of his colleagues.
In his mature years, he found his own style, unlike any other, sharpening it to subtlety. There is little left of impressionism in it – the rejection of the abundance of black, perhaps. But he did not inherit the sparkling joy penetrated by the sunlight of paints from the Impressionists.
He did not inherit the character of the stroke, the general ideological orientation. Where they erect a part in the absolute, raise it on a pedestal, where they concentrate on parts, Cezanne selects the whole, erects it already in the absolute. Not some particular through which the whole world is shown, but the whole world, fit into one picture, compressed, as if under strong pressure, rolled into
a single whole.
"The Coast of Marne" perfectly illustrates this period of his work. The landscape looks general, not spelled out, devoid of detail, and at the same time very static. It is dominated by horizontal lines (the line of the horizon, the line of the river bank, the line of the bridge, the lines of the house), the reflection in the water of the trees and the earth gives additional stillness. Paints – selected trowels that create an atmosphere of peace – mostly cold colors, the same color flows in the foliage, in the water, and in the sky, giving the picture completeness and integrity.
It would seem – obviously a summer day is depicted, clouds are running across the sky, reflected in the surface of the river, but shades of blue and green dominate, cooling, making stillness perfect, suggestive of winter, a swamp, something unpleasant. Transforming the world in the picture into a work of art, created in order to admire. I do not want to step into it – but it was not created for this.





(
1
votes, average:
5.00
out of 5)
Description of the painting by Paul Cezanne "The Coast of Marne"