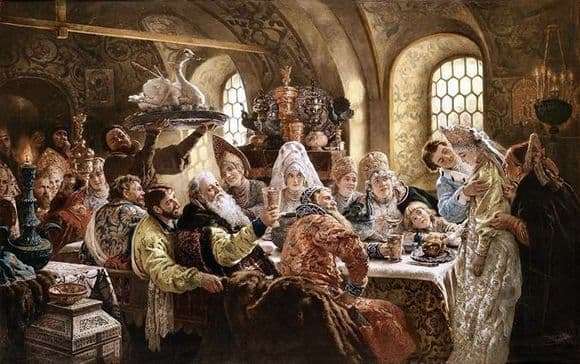 The famous canvas by Makovsky Konstantin Egorovich "Boyarsky Wedding Feast" belongs to the whole cycle of his canvases, which are united by historical plots.
These are bright, festive, fabulous, unusually colorful works, with a large number of characters, paintings that convey traditions, rites of the Russian people, glorify these traditions and prolong their lives.
Each hero of the plot is truly truthfully described. The mimics of each guest are subtly conveyed, amazingly accurate, diverse, richly written clothes of the boyars of that time. The picture is so designed that there are no shadowed faces in it, they are all highlighted and each character has its own meaning.
Of course, the main character of the picture should be the bride at her wedding. But the picture does not immediately notice. The girl is written almost at the very edge of the canvas. Makovsky, it seems, emphasizes her true position in this society.
The drooping look of the girl, humility in the whole pose, hopelessness – all this eclipses even such amazingly luxurious decorations of the bride. And absolutely deadly grayish hand of a young girl is staring in the midst of brocade splendor.
The groom is careful with the beautiful woman. He is trying to carefully turn the nesmeyan to himself, but, as experience shows, the rich boyar lacked such care for a while.
Behind the bride squat toad jostled matchmaker. Already, she knows with what a heavy heart a beautiful woman goes down the aisle – not her fiancé. Well, is it really a reason to be so, such and such a marriage is a happiness for any girl.
With joy and smiles, the male guests are drawn to the young bride with glasses. They are not going to delve into the sorrows of the newlywed. It is alien to them. But women look at the bride is not so simple. Here is a magnificent lady waiting with obvious interest, what will happen next – whether the groom will be able to kiss the beauty.
A bright young woman in the center of the table is not at all complacently disposed towards an obstinate bride. Perhaps she dreamed herself to be in her place?
Unusual pictures of Makovsky make invent, fantasize and admire.