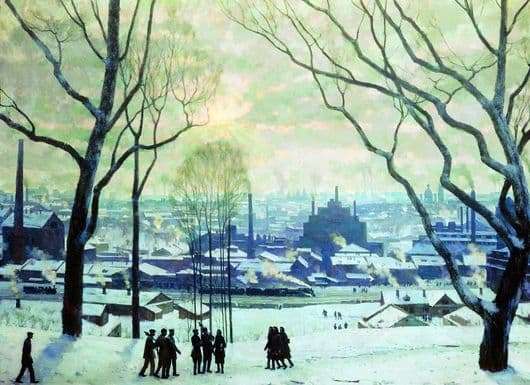 Konstantin Fedorovich Yuon was a painter, graphic artist and set designer. In his early work, the motifs of the Russian countryside can be traced: he was interested in the state of nature, how the seasons change, what kind of life in different cities and villages, the architecture of ancient monasteries. The style of painting of this creator was influenced by artists such as Serov and Korovin.
When the revolution ended, his personal style almost did not change, the circle of plots was slightly different.
From the 20s to the 50s of the 20th century, he created paintings on revolutionary themes, and about his current life, in which he adhered to reality. The landscapes created in those years are close in style to the early works of the 10s of the 20th century; impressionism and "Peredvizhnichny realism" are closely intertwined in them. They are filled with subtle lyricism, they are especially valuable from the entire artistic heritage of the artist.
In 1949, Konstantin Yuon painted the painting "The Morning of Industrial Moscow" in oil on canvas. Now she is in the State Tretyakov Gallery in Moscow.
This picture shows the usual weekly early morning. It is winter outside, people go to work, some stop and communicate with each other. They look very small compared to the snow-covered trees that rise above them.
Behind the trees you can see the roofs of wooden houses, some of them heat the stoves to make them warmer. It can be seen that enterprises are working with might and main in Moscow, smoke comes out of their pipes, which means that workers are working with might and main during their working shift. As if the whole capital is smoke-filled because of these plants.
At the top of the picture is painted the sky in bluish, yellow and green tones. The bright sun is trying to break through the sky and illuminate the city with its sunbeams, so that it would not be so cold for people to go to work on this frosty day.