Description of the painting by Konstantin Yuon "Landscape with skiers"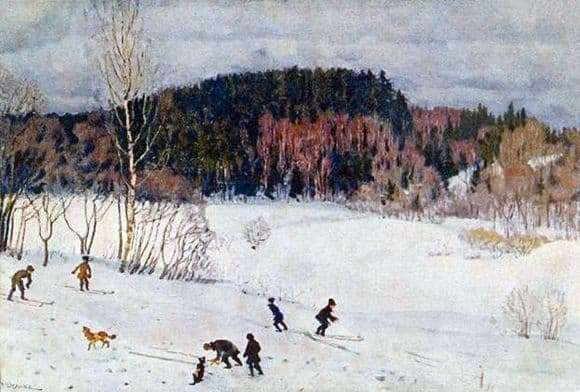 KF Yuon – master of landscape painting. He often depicted in his paintings the Russian village, reflecting the identity of the people. The work "Landscape with Skiers" was made in the unique individual style of the master. The canvas depicts the edge of the forest, adapted by the guys for skiing. The sky is tightly covered with snow clouds, such clouds do not allow the sun to break through.
The forest is depicted in abundance of various colors and shades. Coniferous trees are combined with native Russian birch trees. The snow covered the ground tightly and created good conditions for skiing. Six guys came to ride, three move out from a small hillock, and the rest are already rising back.
The boys took their four-legged friends with them for a walk. Dogs also frolic in the fresh air, one dog runs after the kids. In winter, this entertainment is not uncommon, good weather is an excellent reason for this
kind of walk. The artist very accurately conveyed the mood of the children and the atmosphere reigning that day in the meadow.
The magnificent winter landscape shows the beauty of the Russian land. A hillock overgrown with trees creates a sense of grandeur and the importance of nature. The author made little use of pure white paint. The snow plays in various shades by itself, conveying a sense of reality. The snow carpet is set off in blue, gray and even yellow. Such a shade of snow cover suggests that the snow is long.
Children, most likely, live in the nearest village, such large dogs would live closely in an apartment. These animals love freedom and rural spaces just for them. If the children are skiing, the snow is thick and there was no thaw. This weather is typical for the middle of winter. The sky is not visible penetrating sunlight, which signal the arrival of spring. The artist realistically displayed the time of year, the atmosphere and the beauty of nature.





(
2
votes, average:
2.50
out of 5)
Description of the painting by Konstantin Yuon "Landscape with skiers"