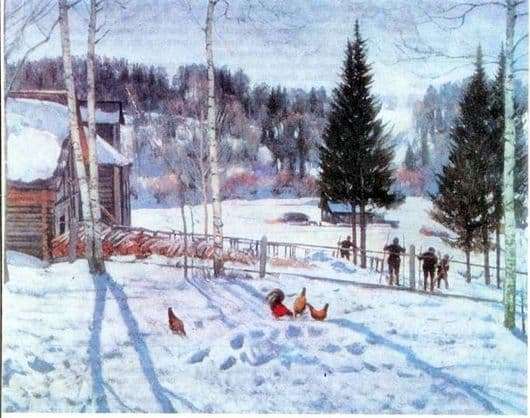 The painting "The End of Winter. Noon" is one of the most significant works of KF. Yuona. The canvas depicts the most common house on the outskirts of the village in central Russia. The chopped house does not hide the opening panorama of the snow-covered forest in the background and the fragile harmony of the birch trees frozen in anticipation of the spring heat in the foreground.
Children who go skiing and a few chickens, led by a handsome rooster, that slowly poking around in loose snow, give a sense of serenity. It is serenity, peace and, at the same time, an indestructible presentiment of some future novelty, a radical change that permeates the semantic field of the picture. Evidence of this is the spring brightness of the landscape and the barely noticeable "looseness" of snow cover. The artist clearly conveys the riot of nature, ready to wake up from a winter sleep.
With all the grandeur and beauty of nature, she, in Yuon's transcription, approaches the absolute in unity with man. It is the presence of people that harmoniously animates the forces of nature, gives them life-giving warmth.
The author freely operates in his work with bright color transitions and play of contrasts. The blue streaks on the still white snow are distinct and unequivocal, against the background of dark green firs. The space of the picture is as if drenched by the bright rays of the sun, hinting at the coming awakening from winter sleep.