Description of the painting by Nikolai Krymov "Morning"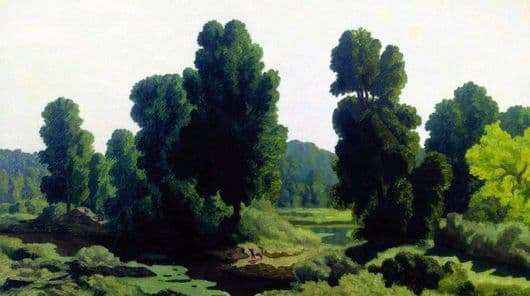 The Saratov State Art Museum of Radishchev exhibits in its halls a masterpiece of Russian art – the work of Morning by Nikolai Petrovich Krymov. This Soviet artist always gave preference to landscapes, which, in his understanding, should reflect the fullness, breadth and inexpressible beauty of Russian nature. We see wide, sprawling trees on a green meadow covered with forest grass.
Everywhere an endless mass of vegetation of various shades. The artist skillfully alternates light and dark undertones, conveying the realism and volume of the landscape he sees. The lighting built by the author is very pleasant to the eye, it easily touches trees and bushes, allowing you to appreciate the rich gamut of emerald colors. For a moment, the green turns into a treasure trove with precious stones. Here the whole sea is green in all its forms.
From the front shrubs to the distant darkish crowns – all immersed in lush green.
This is the very flowering of the forest, the beginning of summer, when life is flourishing and producing a rich harvest to ensure its life for the next year. The saturated lower part of the canvas contrasts strongly with a clear, white sky, which indicates a very hot weather. All the foliage is covered with scorching heat, and nature freezes in anticipation of the evening coolness.
Krymov in all his works expresses real beauty. His adoration is tied to a specific place, which so deeply sinks into the creative soul that it can not be transferred to the canvas. Decades and even centuries will pass, the world will change, and this intimate corner of nature will change.
The forests will disappear, in their place will be broken roads, houses and residential areas. Beauty will disappear, but only physically, it will remain with us on this canvas. For many years, the artist's canvas, filled with the hot sun and lush leaves, will bring warmth and love for nature into our souls.





(
1
votes, average:
5.00
out of 5)
Description of the painting by Nikolai Krymov "Morning"