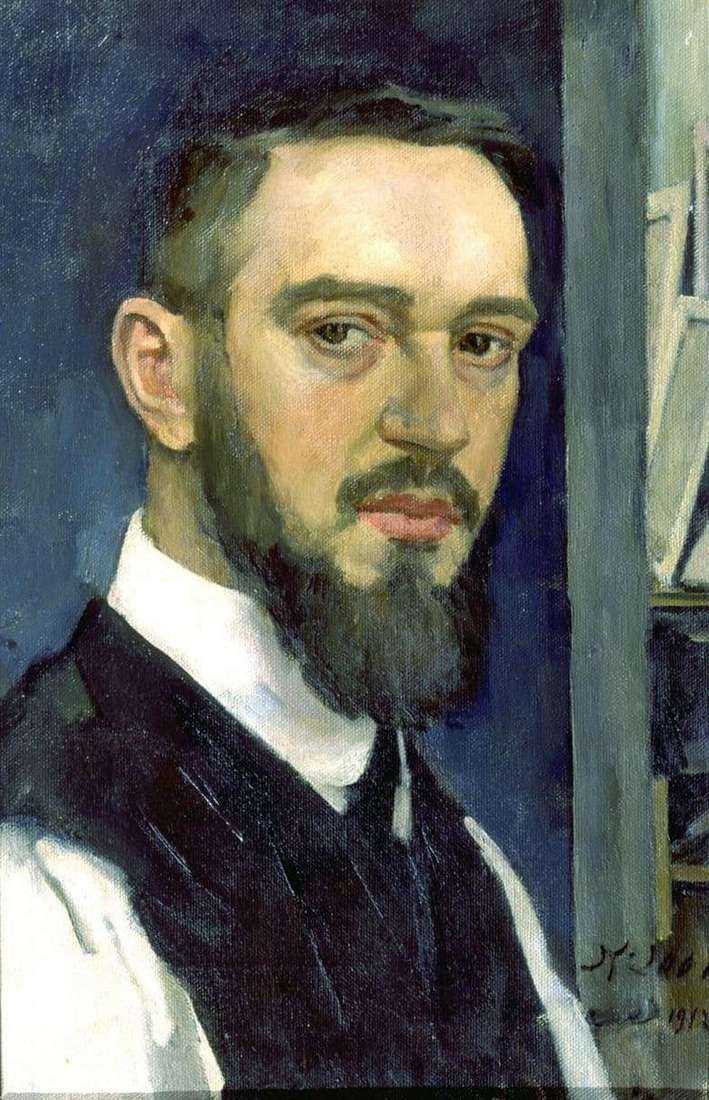 Year of creation – 1912, materials – oil on canvas, dimensions – 54 by 36 cm. Located in the Russian Museum, St. Petersburg, Russia.
Born during the reign of the emperor, Konstantin Fedorovich was successfully realized not only as an artist, landscape painter and creator of theatrical scenery during wars and revolutions, he is considered a connecting link to the art of old and new Russia. In his expressive work filled with colors, he surprisingly combined the realism of impressionism and Russian modernism in various works. Separate attention is deserved with the pictures devoted to futuristic and "space" plots.
And in almost the opposite color style, the painter depicted himself on this canvas. He appears before the audience as a serious thirty-seven-year-old man in a vest and with a tie – the typical image of the artist seems somewhat different. Deep hazel eyes look piercingly and give out the mind, beneath them are bluish-purple shadows, indicating fatigue. At the same time, pink-beige lips stand out noticeably on the face, and it is perfectly framed perfectly with a whole palette of blue – from cobalt and midnight on the left to sapphire and gray-blue with translucent reflections from the skin and hair on the right. At the same time, a cold shadow falls on the open area of ​​the neck from the wall. Dazzling white shirt shines. The background is registered with noticeable large strokes, the clothes are almost not detailed. Probably,
The overall impression of the self-portrait is a bit sad and calm, it sets up a philosophical mood. The gaze clings to the eye-nose-lip triangle and begins to travel around the suit, to follow the transitions of seemingly such a limited range of shades.