Description of the painting by Konstantin Yuon "People"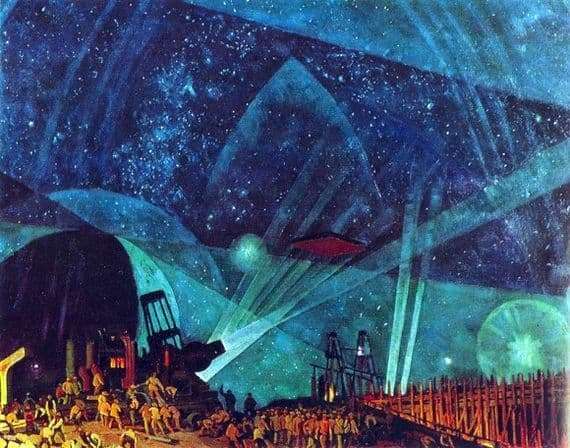 Russian artist Konstantin Yuon made many works of different styles and levels. He was a talented artist, graphic artist and theater director. Among his works one can find thematic paintings and a large number of portrait images of contemporaries, but his talent was best revealed in landscape works.
One of the important events that have an impact on the work of Yuon was the discovery of old Russian icons. Restorers cleaned the image, revealing the brightest and purest shades. Therefore, it is not surprising that in his works one can see the joy, the outward beauty of nature, and the love of life. Most often he draws the sun or snowy weather, colorful folk robes, monuments of old Russian architecture.
A significant event becomes the receipt of membership in AHRR in 1925.
Although many of the works of K. Yuon contradict his sympathies for the Bolsheviks. For example, his famous work "New Planet" demonstrates a monstrous cosmic catastrophe, which is a symbol of the October revolution. In the painting "Kupala and Swallows," the author portrays the beauty of the Orthodox cathedrals, and the architectural power flooded with sunlight and grace, while the Bolsheviks did not at all sympathize with the Orthodox Church.
In his own film "People", the artist captured the image of the only built Soviet correctional camp SLON, located in Solovki. In the center of the composition he depicts people engaged in heavy physical labor, and their strict guards. Unfortunately, thousands of people died in correctional camps during the years of their existence, performing heavy physical tasks.
And the author completely disagrees with the Bolsheviks and with their system, which seeks to shoot and kill those who do not agree. In this case, most of the picture takes a clear blue sky.





(
2
votes, average:
4.50
out of 5)
Description of the painting by Konstantin Yuon "People"