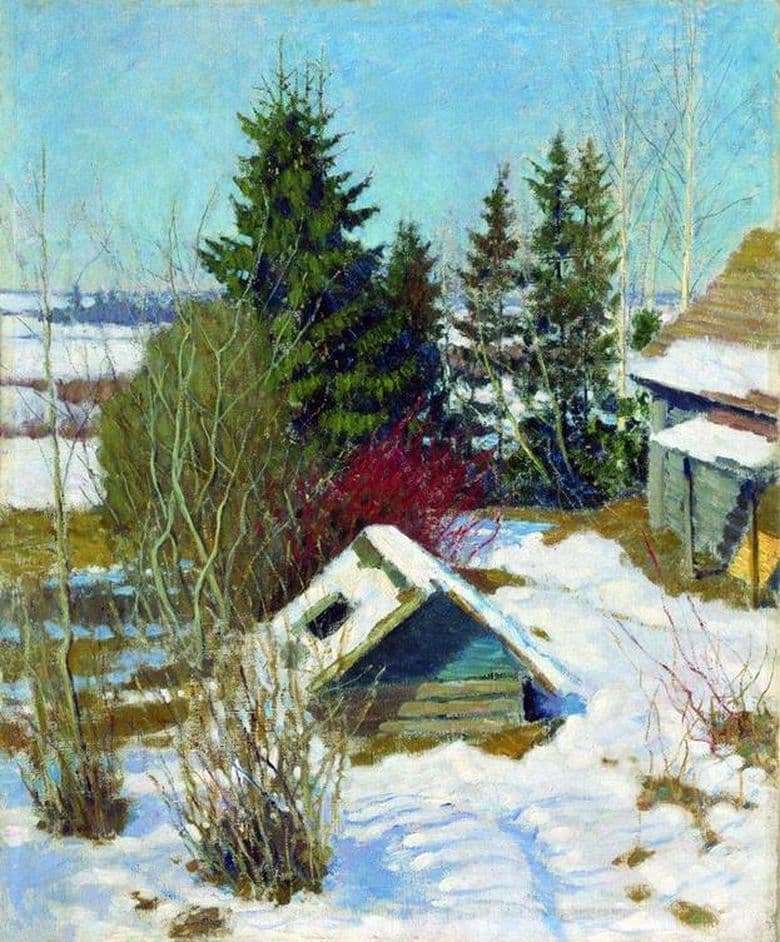 Written in oil on canvas in 1931, located vertically, the size is 95 by 78.5 cm. It is stored in the National Museum of Art named after Gapar Aitiev, Bishkek, Kyrgyzstan.
This landscape is one of the many reflections of the love of its creator to the Russian north. Igor Emmanuilovich is even called the artist of snow and hoarfrost, rediscovering the nature of Russia. It is likely that he also performed this work in the open air, completely surrendering to the impression of the moment, observing his surroundings live. The style of the painter is characterized as his own interpretation of realism on a par with impressionism and the share of pointillism.
Having looked at the picture for the first time, at first we notice a wooden well with a triangular roof standing practically in the center. Attention to it also accent maroon-red twigs of the bush, stretching upwards. Watching them, along the verticals of dark green spruce trees and bare birch trees we rise to a dazzlingly transparent sky. Its blueness is the purest, slightly greenish when winter gives way to spring.
Now the details are also sharp: bright thawed patches that grow through loose, but still white snow, the remnants of which gradually roll off the roofs, light blue-violet shadows, a piece of yellow rectangle on the right that looks like a door to summer…
The whole composition is well balanced and thought out. Soft contrasts manifest themselves through a hilarious dispute between basic warm and small cold spots. Log buildings and trees are registered with fine details, even their silhouettes in the background. The overall mood of the picture is joyful, but a bit melancholic – just like nature waking up from a long sleep. However, the name suggests that the cold is over, very soon the snow cover will completely disappear, giving way to young grass, and in the breeze the leaves will rustle.