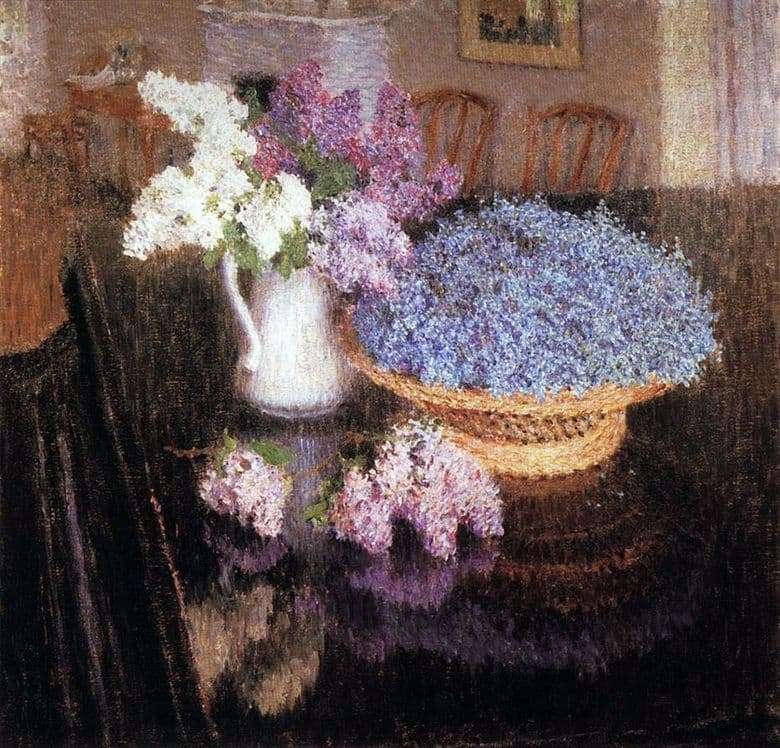 The artist himself recalled that his still lifes always reflected the mood. Here is the picture "Lilac and forget-me-nots" (1904) – penetrated by sunlight, joy, lilac fragrance. Around a still-life it seems like a bright floral scent. Although I. Grabar himself was not very pleased with this picture. It seemed to him "boring and dry." The still life, written in the style of French impressionism, surprises and pleases with sensuality, filled with emotions that owned the artist, when he saw flowers modestly standing on the top of the piano.
In the center of the picture is a white jug with lilac white and pinkish-lilac and a wide low basket with forget-me-nots standing nearby. The pure blue color of the forget-me-nots emphasizes, emphasizes the pale lilac and white colors of the vase with the branches of lilac. As the author of the still-life himself recalled, he saw a vase and a basket of flowers standing on the lid of the piano in the house of his friend, threw down another branch of lilac beside him and began to write. The feeling of joy, happiness, permeated with life-affirming emotions of spring, comes from this artistic canvas.
The viewer gets a double sensation of spring, sunny, fragrant-flowery emotions, thanks to a clear reflection of the flower arrangement on a dark, brilliant background of a lacquered piano lid. Such a deep reflection enhances the viewer's perception of those feelings and emotions that the artist sought to convey to the viewer.
In the background you can see chairs standing abreast against the wall. On the wall hangs a small picture in a light frame. There is a feeling that people who listened to someone playing the piano went out into the garden, are about to return… And the flowers on the piano live their own life, they fill the room with themselves, with their fragrance, with spring fresh air. Flowers seemed to bring with them into the room the sunlight that they had absorbed when they were still blooming in the garden.