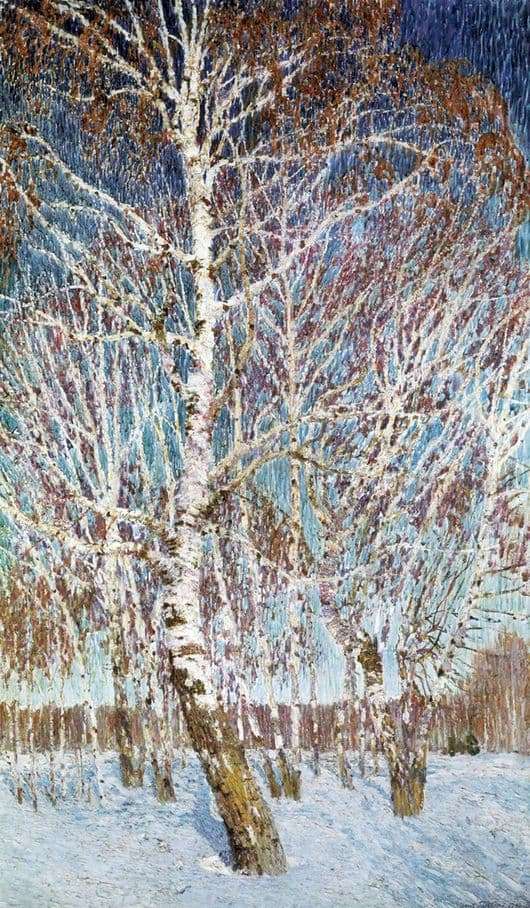 The image of the winter landscape in the picture of the Russian artist Igor Grabar conveys the mood of the winter forest, which is already preparing for the arrival of spring. Last winter days in the forest, February azure, enveloping rare birch trees.
The picture is depicted in such a way as if the artist painted it lying down, looking at the sample below. And this technique gives the picture an amazing effect.
Birches, snow, sky, it would seem, how much white color should be used to depict this picture. But the artist does not glut the picture with light tones. Not perfect purity of snow, glimpses of thawed patches – everything speaks of the imminent approach of spring.
Spring colors are used a lot – a whole palette of pastel and bright colors. A lot of shades of blue, ultramarine, in which the sky is painted over a birch forest. The combinations of these colors blend into an incredible harmony – the music of spring, and the slight sadness of parting with winter.
The form of birch depicted in the picture "February Azure" deserves special attention. Against the backdrop of the azure sky, birch branches have an amazing, mysterious and attractive look. This picture, of course, uplifting those who consider it. This is the effect the artist wanted. The joy of the arrival of spring, the smile of the woken up trees, the clear blue sky gently lay down on the canvas of the "poet of the Russian winter" by the outstanding Russian artist Igor Grabar.
On the central birch you can still see the lace frost, it sparkles with sparkles, as if beads are thrown over birch. The real beauty is Russian birch. And behind the majestic "soloist" they create an ensemble of equally beautiful birch trees, which also rejoice at the early arrival of spring and are ready to meet her with their festive forest song.
Even the name of the painting "February Azure" already makes it clear that this picture will reveal an amazing poetic world of Russian late winter, represented in the image of a small piece of the native land.