Description of the painting by Mikhail Vrubel "Snow Maiden"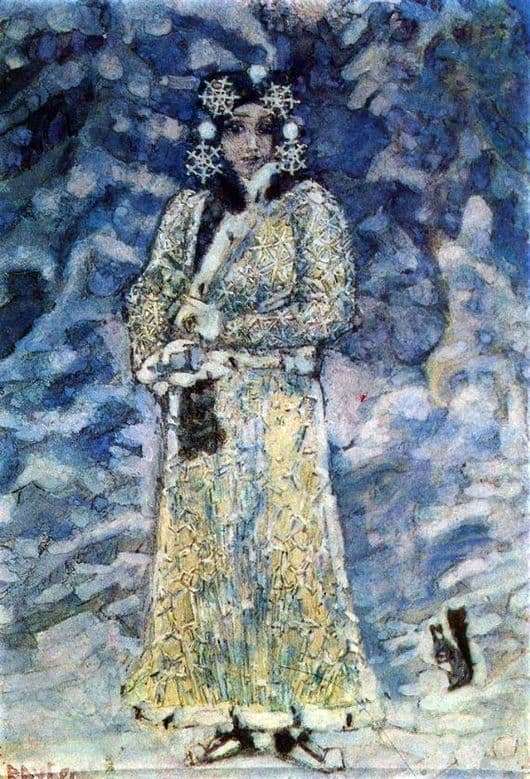 Mikhail Vrubel, the great painter, who created his masterpieces in the direction of post-impressionism. In his works he used a special technique of writing pictures, which amazes art lovers today.
Intense colors in his works, forced to check the diverse sensations, the exact efficiency of images, the immense fatum. Thanks to all this, you unwittingly freeze and consider pictures with fantastic stories.
A large number of images of the actress Nadezhda Ivanovna Zabely were saved. She acted in the role of his Muse, the Sea Princess, as well as Spring. The most colorful among the images of the Artist, is the canvas "Snow Maiden".
Mikhail Vrubel vividly captured the girl's loose curls and the image of the face he liked. The girl on the background of snow-white boron, with eyes in some slumber and with a slightly languid smile. Spruce branches covered with snow covered shadows with a bluish tinge. The Snow Maiden is not afraid of cold and frost, because she is the mistress in this fairy forest, a cute wizard with unusual eyes.
The artist constantly improved the image of Nadezhda Zabela, in paintings and in life. Vrubel invented for her various models of dresses with a diverse series of colors. Wardrobe increased gradually. The range of clothing consisted of bright colors that should shine on his wife. But Hope criticized such luxury for inconvenience. Mentally scolding the artist for clothes, she still put on a dress and wore it confidently.
And even after several years of family life, the wife of Mikhail Vrubel concealed a puzzling riddle that the painter saw in nature and music.





(
1
votes, average:
5.00
out of 5)
Description of the painting by Mikhail Vrubel "Snow Maiden"