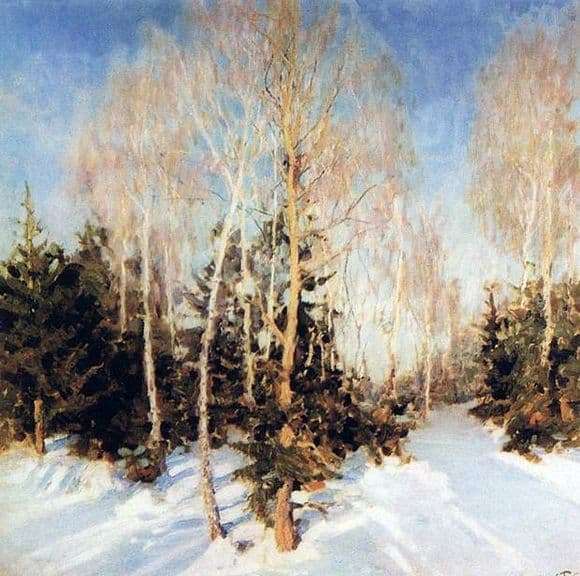 I. E. Grabar was not only an artist, but also an art historian, scientist and connoisseur of museum craft. He was very versatile and for whatever he took, everything worked out for him.
The main business of his life was painting, he could not imagine himself without a pencil in his hand, he drew as he remembered himself, and still at school he ruined his writing with his sketches.
The painting "Winter Landscape" depicts a Russian forest, where birches intertwine with coniferous trees. The artist loved landscapes and realistically depicted the beauty of the world around him. He loved to contemplate the awakening of nature.
Dawn is always associated with the beginning of a new day, a new life. Yesterday was in the past, all the bad things are behind. Morning comes and the incredibly clean air gives a feeling of freedom. The will of prejudice, the past and with hope for the best. From the image breathes kindness and good mood.
Slightly pinkish snow and faded winter rays of the sun, which so beautifully cast a shadow from the trees, signaling the beginning of the day. Trees stand in hibernation, as if spellbound. Visible country road, leaving deep into the thicket. Apparently this is a kind of road junction. Dawn and the road symbolize the beginning of the path.
Ahead of the unknown, sharp turns, but the hope that the sun gives every morning helps to go forward. Perhaps the artist depicted the beginning of his journey, striving for something new.
I. E. Grabar was a keen man, he was attracted to the unknown. In the picture he depicted a kind of crossroads. The roads are directed in different directions, which can speak about the doubts of the artist. It is difficult for him to make a choice, two roads are knocked down, it means that people drive along them, but which one is needed exactly? It is always difficult for versatile personalities to determine what interests you the most.
Internal disputes and conflicts always bring mental discomfort. Although it is under these conditions that true works of art are born, such as the painting Winter Landscape.