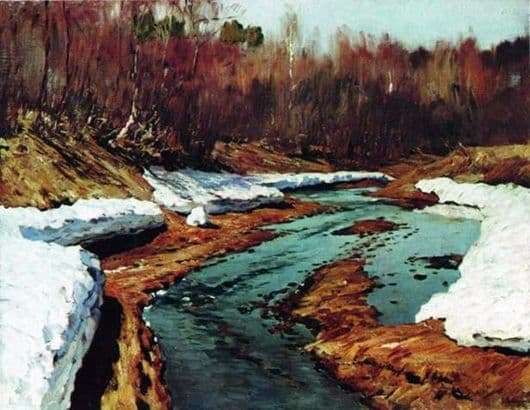 Isaac Levitan is a Russian painter of the 19th century, the turn of the 20th century, known for his paintings reflecting the beauty and the whole essence of Russian nature.
Pictures of Levitan began to enjoy great success even during the artist's life, which undoubtedly testifies to the tremendous talent of the painter, who is able to convey that inexhaustible life-giving power inherent in nature at any time of the year, which even few people manage to capture even with a photo lens.
The painting "Spring. Last Snow "was written by the artist in 1895, just 5 years before his death. On the canvas there is a small rivulet, barely freed from the ice, but ready to pour its waters onto the surrounding shores.
Spring has just begun, nature has not had time to wake up from the winter cold and hibernation, and only the river has thrown off the shackles. Snow-white snow is covered with gray spots and gradually disappears, the trees stand bare but already awakening.
The birches that are seen far beyond the forest are already ready to be covered with the first spring buds. The sun is shining, its rays are not visible, but it is enough to understand this simply by the light, which comes from the blue sky, from the turbulent river, and even from the melting snow.
The artist's skill allowed him to give, in general, the gloomy landscape of the charm of early spring, which is noticeable only to a true nature lover, because very soon the banks of the river will cover the grass, and the edge of the forest will drown in flowers, the first birds will arrive and the long-awaited warmth will come.
It is this moment that anticipates the picture, and I want to look at what will happen next, how this wonderful transformation will occur, for which the artist so carefully prepares us, the brush of which so distinctly wrote out every tree, every twig and hillock. The bright, colorful and inspiring picture is ranked as one of the best examples of pictorial art of Russia and the world.