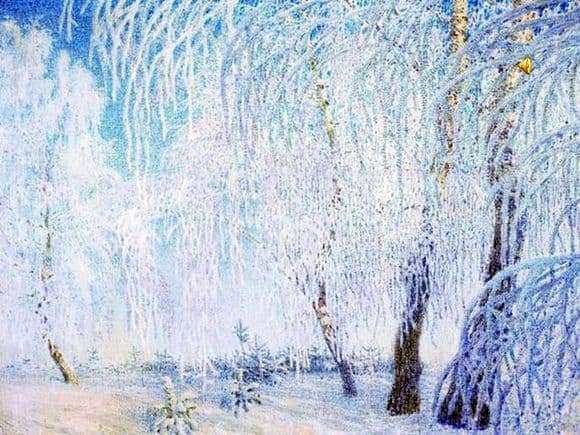 Igor Grabar was born in Budapest. His father worked as a diplomat, so the boy was brought to Russia only at the age of five. The beauty of Russian nature has always fascinated the young man. He had a true artistic talent, so he could not remain indifferent to the unique beauties of each season.
However, true love for Russian nature happened when Igor Grabar visited Italy. When he returned, he was again bewitched by the fabulousness of Russian birch trees, spruce trees, sun glares on snowdrifts, the first thawed patches, and everything that was so imperceptible and familiar to the ordinary eye.
The open-snow winter decorations of nature most of all admired the landscape artist's quivering soul. It is this time of year that the great cycle of his creations is devoted to. "Hoarfrost", written in 1905 – one of these beautiful pictures. In the magic picture, every tiny touch breathes with love and admiration. Grabar, as it were, revives snow-covered trees, forcing fans to believe in a fairy tale.
Slender ladies – birches adorned with the best jewelry, it is not frost, it is a myriad of diamond stones sparkling under the rays of the cool, winter sun. Under the weight of frost, the branches of the forest divas bowed, but, as true beauties should, the birch trees do not bend, stand erect, proud of their bearing and their elegance.
Like little kids near the high charmer there are small Christmas trees. They are also dressed up in winter, but this is a completely different frost – they are fluffy, warm fur coats that protect little mischievous people from the cold.
Snow… Only not the sophisticated spectator can think that the snow is white. The artist's thin eyes saw and showed us thousands of shades of a snow-covered glade. Here are the sun glare painted snow in pink blush, and under the Christmas trees – the kids have lilac shades, and the snow under the birch trees is colored in blue.
A clear, rich blue sky adds festive joy, sunshine and airiness to the whole landscape.