Description of the painting by Vasily Surikov "Taking the Snow Town"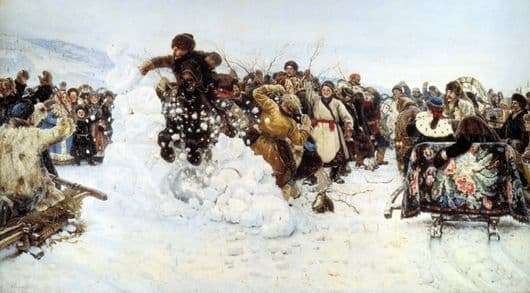 The soul of the Russian people is always hungry for holidays and noisy festivities. And we are used to celebrate such major holidays as Maslenitsa on a grand scale.
In the homeland of Vasily Ivanovich Surikov there is an unusual fun. Snow fortresses are erected from the snow, and on the last day of Shrovetide they organized a funny assault. A lot of people were always going to look at the capture of the town from the snow.
It is this unusual fun and is devoted to the work of Surikov "Taking the snow town"
The painting was painted in 1891. Work done on canvas with oil. The size of the canvas is not small and is 156×282 cm.
The picture is optimistic and dynamic, which is usually not peculiar to the author. In the center of the picture is captured the moment of triumph of a man on a black horse breaking through the defenses of the snow fortress.
On the face of the winner is displayed
confidence, detached from the chase of the rider. The defenders of the fortress remained behind, waving their branches with him, apparently the rider on the way to victory had a lot of tribute to the twigs. And, of course, no spectacle can do without a crowd of spectators. Surikov carefully draws not only the faces of people, but also toilet and wardrobe items. And all this is happening against the backdrop of the purest snow. It is the white background that creates the very contrast that is required for maximum focus on people in the picture.
On Surikov's canvases there are always many characters, despite this the author tries to draw each of the characters, give each of them an individual character, or emphasize a strong emotion. When considering the picture it becomes clear that the author has done a very hard work on his work, because all the characters are written.
To work on the painting "Taking a Snow Town", the author made 10 sketches of his friends and acquaintances, and then bring these images onto the main canvas.
The picture is an exhibit of the Russian Museum and is free for open access.





(
1
votes, average:
5.00
out of 5)
Description of the painting by Vasily Surikov "Taking the Snow Town"