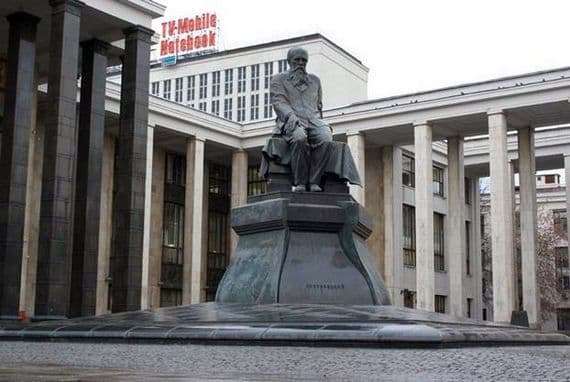 The monument to Fedor Mikhailovich Dostoevsky in Moscow is a monument of architecture, causing interest not only among fans of the great writer, but also lovers of the art of frozen images. The monument was erected in 1997. Several people worked on the creation of the monument: architects M. Possokhin. and A. P. Kochekovsky, as well as the sculptor and restorer A. Rukavishnikov. The monument to Dostoevsky is located on 3/5 Vozdvizhenka Street. To get to the monument, you need to get to Alexander Garden (subway station).
The architects have chosen a very cozy place for the monument – Pensive Dostoevsky is located at the entrance to the building of the Russian Library, which is a very logical decision. The installation of the monument took place in the anniversary year for Moscow – on the eve of the 850th anniversary of the capital.
Monument to Dostoevsky made in a realistic manner. The creators portrayed the writer in his natural state – deep reflection on the meaning of life. A wise thought froze on his face, which will soon be captured in one of the ingenious works. Fedor Dostoevsky forgot about the hustle and bustle of everyday life, sitting on the bench to feel in harmony with himself and the world.
The sculpture of the writer is made of bronze. It is installed on a pedestal of granite, on which the name of the Russian writer is carved. Interesting is the design of the back of the monument: here you can see the embankment of the Neva, the Queen of St. Petersburg.
Interestingly, in 2006, residents of Dresden saw a monument created by Rukavishnikov, in which the features of the "Moscow" Dostoevsky are easily guessed. A practically exact copy of the monument now attracts residents and guests of the city, among whom there are true connoisseurs of literary Dostoevsky.