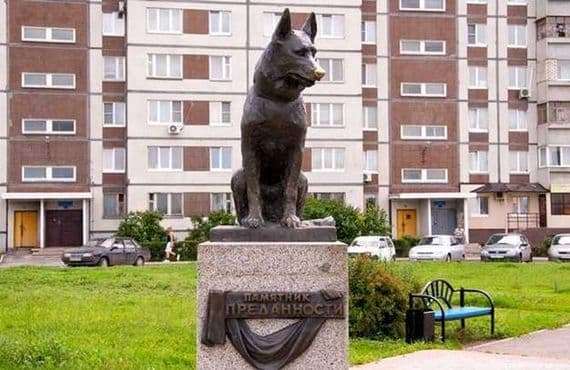 The monument of Devotion in Tolyatti is the best example of the fact that everyone can create a story in which tragic accident and deep human feelings miraculously intertwine.
In 1995, on the highway passing through Avtozavodsky district, an accident occurred that claimed two young lives. By incredible coincidences, only the German Shepherd in a car was able to survive. Since then, the faithful dog has not left the scene of the tragedy. The dog was barking cars in the hope of meeting with the owners.
The road is busy, so people met every day a restless dog, who was in the same place. For him they tried to build a kennel, they tried to tame, but without success. The life of the dog, as if stopped at the scene of an accident.
A feeling of compassion still lives in human hearts, people fed the dog, admiring its incredible devotion. After seven years, the dog went into the forest and died. The track is empty.
Suddenly, the townspeople offered to erect a monument to their beloved dog, as a devotion, which man is not always capable of. In 2002, through donations, including from the city residents, a bronze statue appeared – the Monument of Devotion.
A German Shepherd dog nicknamed "Faithful" or "Kostik", as its people called, is sitting on a pedestal. The figure of the dog is ingenuous, made realistic, accurately conveying the nuances of the structure of the animal's body. It is just over one and a half meters in height and placed on a pedestal. The head of the shepherd dog is slightly tilted, the ears are keenly lifted upwards, as if constantly on the alert, listening, if the owners will come.
Muzzle dogs performed brilliantly. The authors of the sculpture, Oleg Klyuev and Lyubov Turskaya, managed to convey the inner state of the animal. The dog seems to be alive, looking with hope, sadness and misunderstanding at the cars passing by. Looking at the sculpture, the heart aches from melancholy and surging emotions.
One can only hope that the life of the shepherd dog has reminded people that there is still faith and love in the world.