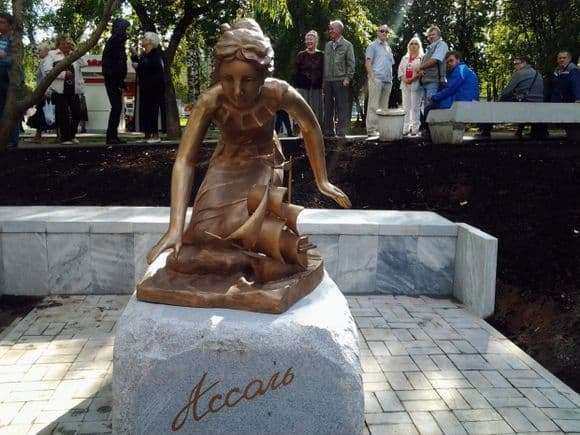 Assol is a girl from the very famous novel "Scarlet Sails". It was written in the 20th century by Alexander Green. The writer is a native of the city of Kirov. And where, if not there should have been a monument to the famous girl Assol.
This monument is young, it has been decorating the city only since 2013. But one should not think that earlier this idea had not led to the Kirovs. This monument is an exact copy of the monument, which was built in the city in the last century. Then it was located at the cinema of the same name after the novel by Alexander Green, next to the fountain, but the years of perestroika took their toll. And in the 2000s, the monument was lost, that no one knew where it was, and the cinema itself ceased to exist.
But the memory remained. In addition, the people of Kirov are very proud of their countryman and his work. They wanted the monument to adorn their city, and all visitors to it associated Kirov with romance, an irresistible faith in the dream. Therefore, it was decided to create a new monument to Assol, which stands on the shore.
Assol on it holds the boat, as if there is another movement now, and it will launch it. Of course, such a sculpture has become a cultural symbol and pride of the whole city. Its cost is 1 million rubles; all residents collected money. Now each of them can be proud of his contribution to the cultural heritage of the country. After all, people come to the monument from all corners of our great Motherland.
It is also noteworthy that the people of Kirov not only created this sculpture in gratitude to the writer, but also arranged a real celebration, which they called the Day of Romance. It is celebrated by the locals every year, and the date is August 23.
It was on this summer day that the famous Grinn writers were born. On the same day, many years after his birth and the creation of the novel, a monument to Assol was erected on the bank of a river in the city of Kirov.