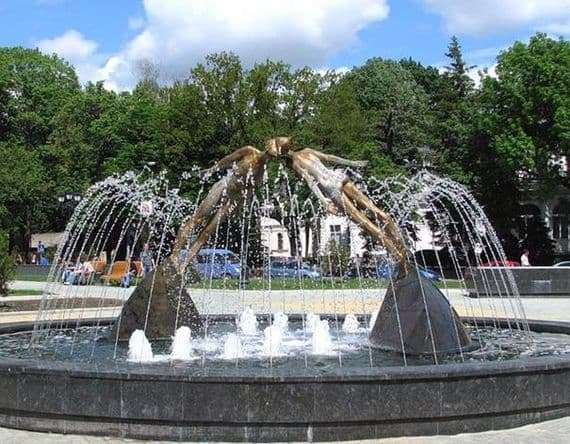 Monuments to lovers – this is not uncommon for a long time, because it is this feeling that is the main inspiration for various creations. One of the very unusual and original monuments to people, in whose hearts this tender feeling settled, is a sculpture in love with Kharkov. The monument to the victims of the arrow of Amur is located near the metro station Beketova. Here is the so-called "penny", which attracts residents and visitors of the city with its comfort and beauty. A small area was called the architects' area, because here you can see the work of talented people who can revive dead stones. Here is a monument to lovers.
This is an original sculpture depicting a young boy and girl, standing at a distance from each other, but stretching towards each other. Lovers stand on fragments of a sphere resembling a planet. They are far from each other, but still their souls touch a tender kiss. Around the lovers are beating the keys of the fountain. It is interesting that initially there was no water around the young people. The idea to surround the kissing lovers came later, when the same lovers began to leave romantic notes right on the monument. It should be noted that this decision exceeded all expectations – water rays, illuminated by different colors of illumination, make the monument to those in love more romantic.
Regarding the history of the creation of the monument, it is a common version according to which the creator of the kissing couple was a student. After the announcement of the competition, the jury received many applications, but the winner was a sketch of a student of the architectural faculty who proposed an original idea. Monument to lovers opened on September 1 in 2002. Around the kissing couple are miniature copies of the sights of Kharkov.