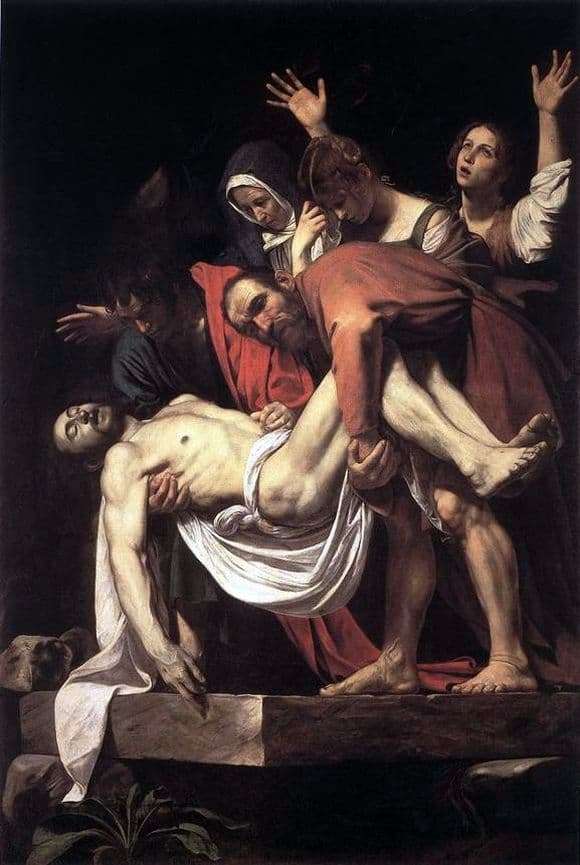 Since Michelangelo Merisi da Caravaggio became the personal painter of Cardinal Francesco del Monte, he began to receive many orders, including on religious subjects. One of these paintings, entitled "Lay in the Coffin," he wrote for the Roman church of Santa Maria della Valicella. She is considered one of the best in the work of the artist.
In this picture, as in the other canvases of Caravaggio with a religious plot, there is a contrast of light and darkness characteristic of the artist. Against the background of dark and impenetrable darkness there is a group of people – in the foreground, John and Nicodemus hold the body of Christ, with the intention of lowering him into a stone coffin. Behind them are the mother of Jesus, Mary Magdalene and another Mary.
Young Maria froze in a silent scream, raising her hands to the sky, her hair sticking out in different directions – apparently, she tore them into moans. The head of Mary Magdalene is sadly lowered, he hides his tears, worrying about the loss. Jesus' mother does not cry and does not cry; she silently looks at the face of her son, knowing that she will never see him again. The faces of the men are concentrated and sorrowful.
John, frowning, peers into the inanimate face of his Master, while the strong and thick-faced Nicodemus looks down at the bottom of the tomb, straining under the weight of Jesus' body. The body of Christ is devoid of any corpse nuances, it is pale, as if it had lost all its colors of life.
The composition "Positions in a coffin" is built so that the viewer looking at it unwittingly becomes part of the picture. The stone tomb, in which they want to put Christ, is turned to one of the corners towards the viewer – this corner, as it were, pierces a subtle barrier between the world of the picture and ordinary reality. The impression is strengthened by the sharp elbow of Jesus holding the feet of Nicodemus. It seems that they want to transfer the immovable body of Christ to the one who looks at the picture.