Home

⇒
📌Caravaggio

⇒
Description of the painting by Michelangelo Merisi da Caravaggio "Madonna with a Snake"
Description of the painting by Michelangelo Merisi da Caravaggio "Madonna with a Snake"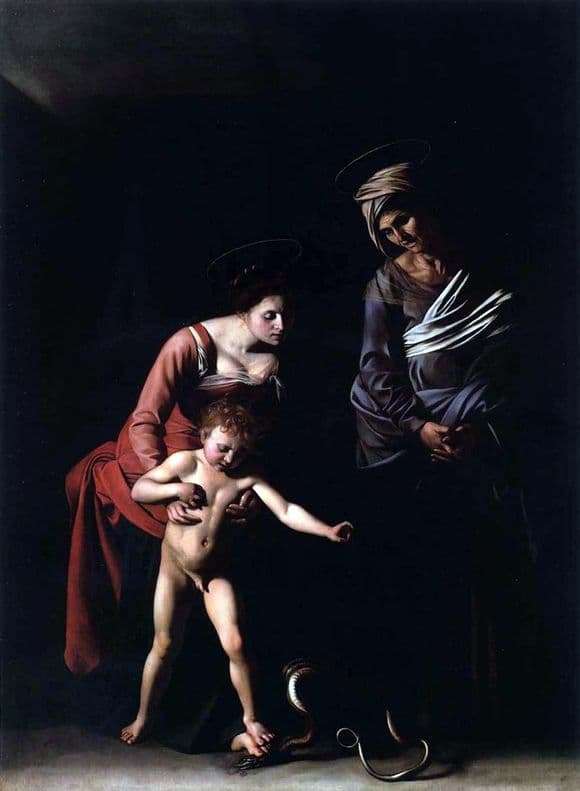 "Madonna Palafrenai" – this was the first name of the painting by Michelangelo Caravaggio, which depicts St. Anne, Mary and the boy Christ. The most dynamic is the figure of Mary, the child is set in motion under the gentle guidance of her mother, and the elderly Anna is at a distance in humble peace.
"Madonna with a snake" – the second name is given to the canvas due to the fact that the painter on it depicted the snake as another main character, personified the evil inclination. The Mother of God with Jesus, in the role of light forces, presses the head of the snake with its feet, symbolically trampling sin. Madonna does not just kill the snake, but sets an example to her child, teaches how to fight dark forces.
Caravaggio worked on a painting commissioned for the central altar of the church of St. Anne in Rome. Started in 1605 and completed a year later, the "Madonna"
was only a few days in the cathedral. The art of the painter, bold for that time, often provoked outrage among his contemporaries, especially church protesters protested. Apparently, the clergy was displeased with Caravaggio's desire to humanize the divine: to overthrow the objects of worship from the pedestal and bring them as close as possible to the people. The master depicted the most revered saints so realistically and naturally, as if he wrote the first people he met on the street.
The artist worked in the heyday of the Baroque – this is expressed in the theatrical drama of the canvas. Caravaggio's distinctive style is a distinct contrast between darkness and illumination of the characters. The striking work on light and shadow, the unity of action, the rich emotional fullness of the characters and the excessive frankness in their portrayal make the artist's religious painting original, truthful and complete.
Due to the rejection of the church "Madonna with a Snake" fell into the collection of paintings by Schipione Borghese, and is now exhibited in the eponymous villa of the princely family in Rome.





(
1
votes, average:
5.00
out of 5)
Description of the painting by Michelangelo Merisi da Caravaggio "Madonna with a Snake"