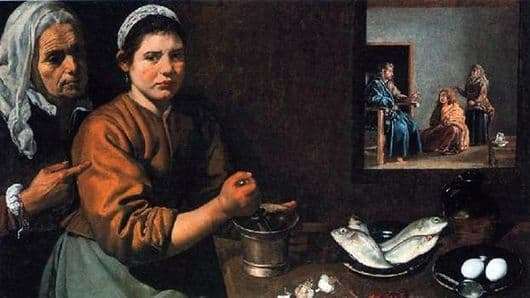 Diego Velázquez was a big fan of biblical subjects, but he depicted them, like his other paintings in his own way, in his own manner of writing. The painting "Christ in the House of Martha and Mary" was created after long months of painstaking work in 1618 and was Vellazquez's own interpretation of one of the stories recorded in the Gospel of Luke and narrating the arrival of Jesus to the house of two sisters, Martha and Mary.
The plot of this narrative is this: Martha and Maria are unmarried sisters living in the same house that Christ himself once visited. At the sight of a guest, Martha rushed to prepare a treat and fuss around the house, but Mary sat down at the feet of the Son of God and began talking to him.
In response to such actions, Marfa's sister, tired and angry, complained to her to Christ, to which she received an answer she did not expect. Christ praised Mary, and she, so caring and hardworking, said that it was necessary to think not about the material, but about the spiritual. Velázquez was the best way to convey this moment of discontent with Martha and the gentleness of Mary.
In the foreground of the picture are two women – an elderly and young. In the hands of a young mortar, in which she prepares some herbs – this is Maria. The second person is anxious and angry, she angrily points the young to work, apparently ordering her to do it. On the table, a bowl of fish – fish, as you know, symbolizes Christ. In addition to the fish, the artist also depicts a plate with eggs and a jug – the food that Martha prepared for Christ and his companions.
On the wall of the room hangs a picture, just the same and depicting the scene of the meeting of Christ and the sisters. Christ is sitting in a chair, the girl Maria is at his feet, and Martha is standing behind her, the tension in her appearance betrays what she constantly thinks about and, as the biblical story says, cannot focus on what Christ says.