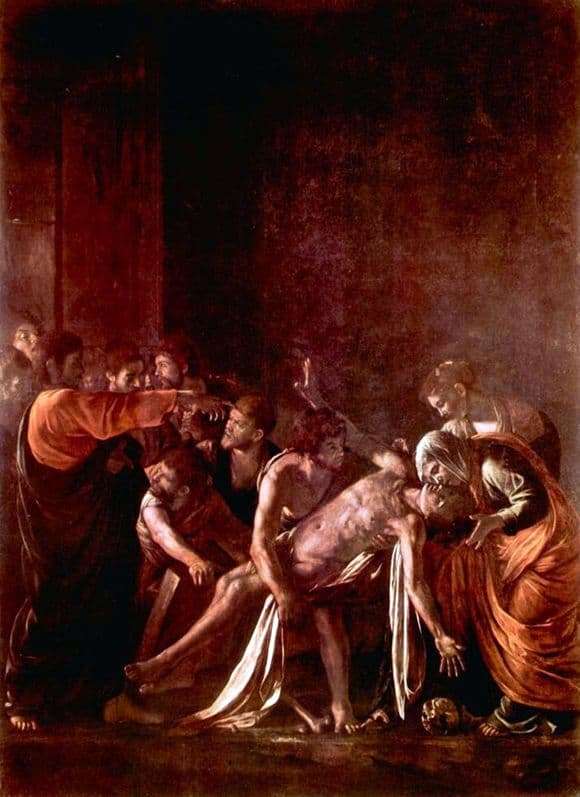 In 1608, the artist Caravaggio, staying in Messina, starts an acquaintance with a notable merchant. A wealthy merchant orders him a picture on a free topic. The painter chose for painting the biblical story of the resurrection of Lazarus.
A dark cave, several men hold the body, which had been lying in a coffin for four days. Caravaggio preferred to work from life, so for the new picture he found people to pose for. Moreover, according to legend, for accuracy, he ordered the body to be excavated the other day of the deceased young man. The employed people flatly refused to approach the corpse, but the artist still insisted on collective posing, in a fit of thirst for artistic embodiment, even threatening the models with a knife.
A characteristic feature of Caravaggio's painting is the bright streams of light cutting through the impenetrable black void. Like a searchlight, rays of light line the surface of the skin of naked Lazarus, illuminating the clothes, faces and limbs of the stage participants: Christ and the grieving people. It seems that this golden unearthly light is about to bring life back to Lazarus. In the background, in the darkness, the grave-diggers, who so often saw death, turn their faces away so as not to see the oppressive spectacle again.
On the ground are the bones and skull of the nameless long-standing death victim. And from above – the living palm of Lazarus stretched out to the warm stream of light, surrenders, responding to the command of Christ. Those close to the resurrected have not yet had time to fully realize what happened, on their faces are grief, anxiety, confusion.
The story says that a rich customer was not satisfied with the painter's canvas. Therefore, it was presented to the brotherhood of the Crusaders. For all the time, "The Resurrection of Lazarus" survived several earthquakes, after which the picture was successfully restored for the gallery of Messina.
In the famous masterpiece of religious painting, Caravaggio stands before us as a preacher of ineradicable faith in the eternity of life.