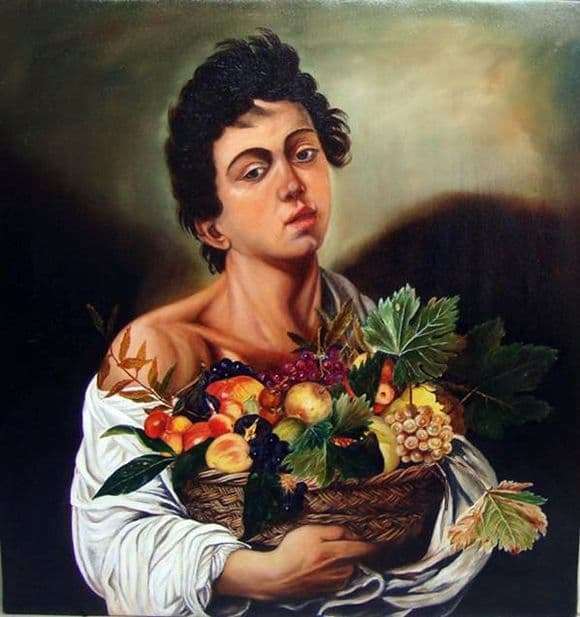 Michelangelo Caravaggio – an artist with Italian roots, educated in Milan. His famous painting "A Young Man with a Basket of Fruits" is his early work.
He wrote to her in 1593. Interestingly, Caravaggio loved to portray both the everyday life of people and biblical events. "A young man with a basket of fruit" is an image of just ordinary life.
On the canvas of 70 by 67 centimeters, the artist depicted a portrait of a young man, in whose hands is a basket with ripe fresh fruit. The guy has dark, thick, curly hair. The posture of the young man is quite free, he was slightly hunched, he bare his shoulder. He looks at us with a proud look. His mouth is slightly open.
The artist devoted a lot of time to the fruit basket. In the wicker brown basket, Michelangelo Caravaggio put grapes, red-green apples, ripe figs, peaches and other fruits.
The brightest fruits are apples, and the artist depicted the rest of the fruits in neutral colors to make everything look harmonious. After all, if Caravaggio took a lot of bright colors, our attention would be spent only on fruit, then we would have forgotten about the main character.
There is no reliable information about who this young man was. Many believe that Caravaggio just asked to pose for the first comer. In general, Michelangelo Caravaggio is famous for depicting the most ordinary people of the people in his paintings.
The artist paid great attention to colors and light. In this picture, it is immediately clear that the light falls on the left side. After all, the brightest spots are the young man's left cheek and shoulder.
On the right side of the picture, on the contrary, the shadows fall. The background of the picture is the most common gray wall. The artist specially depicted a guy in a normal room, not in nature. So that the fruit does not merge with the natural environment.