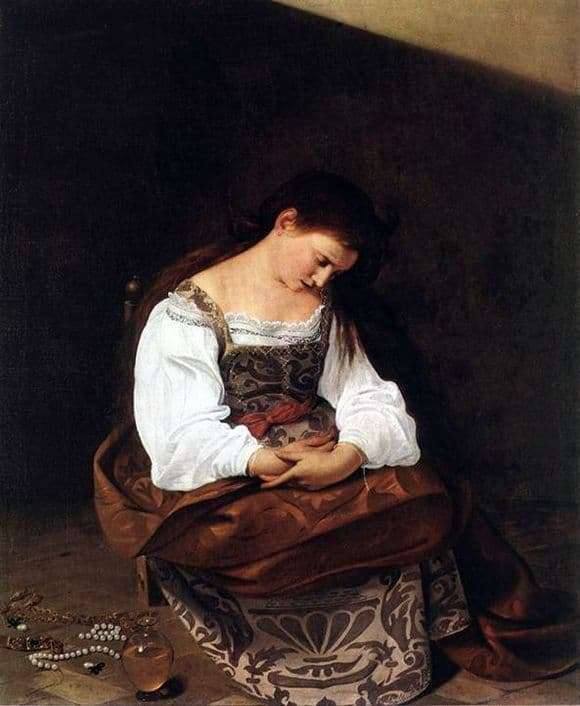 According to historical information, by 1597, one of Caravaggio's deeply religious paintings, entitled "Penitent Mary Magdalene", was completed. Numerous biblical scenes particularly touched the soul of the baroque sculptors. Italian painter Caravaggio created most of the masterpieces in Rome – then the center of the arts of all Europe. It was written in this city and its famous "Mary Magdalene."
Caravaggio's brush is instantly guessed by the rich palette of the canvas and the skillful play of light. The background of the painting is completely painted in a dark brown tone. Only a small piece of bright light falls from above on the corner of the picture. The very figure of the heroine of the artist with the objects lying near her is also illuminated.
A young woman sits in a low chair in the center of the picture. She is wearing a silk white shirt. The dress with a corsage is decorated with damask ornaments. A long veil frames the figure of the heroine. Beside her, all kinds of jewelery are laid out on the floor: earrings, beads, and a necklace. Near put a transparent jug of water. The girl dismissed after washing thick brown hair.
Caravaggio masterfully shows the emotions of Magdalen. She folded her arms in front of her. The head of the former harlot is tilted, his eyes are closed. However, it does not read in her image of repentance. Rather, there is a heavy humility with life, fatigue and doom.
It seems that even tears run across her face, exposing all the bitterness in her soul.
Painter as a nature invited the girl Anna Bianchini. She was a young sinner about sixteen years old, selling her body because of need. She told the artist a difficult life story. And he found her image most suitable for writing "The Penitent Magdalen."
Religious painting was met with criticism and commendable admiration. Now it can be seen in the capital of Italy – in the gallery of Doria Pamphili.