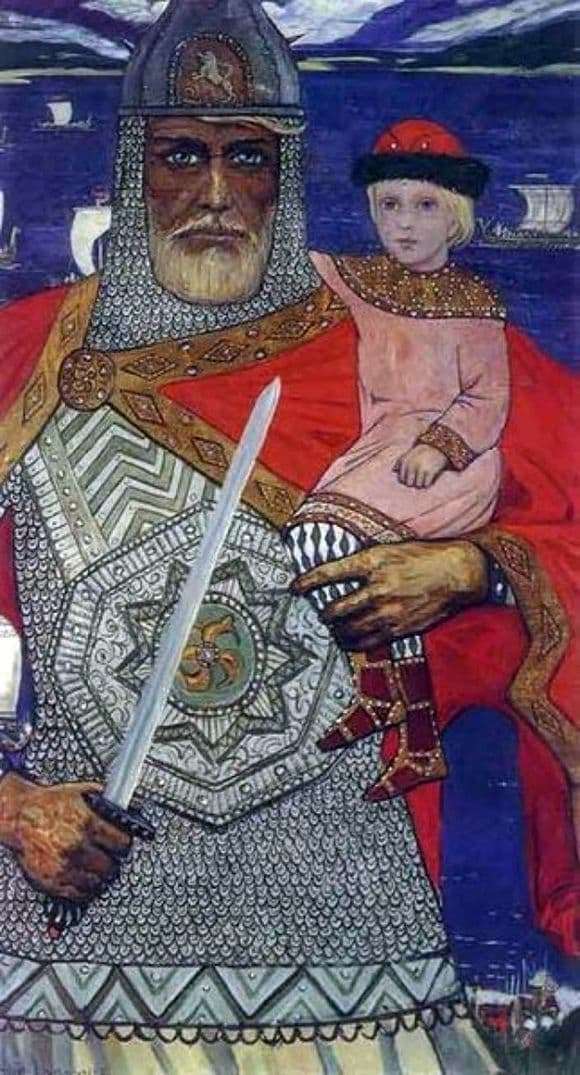 He depicted the picture of the legendary Prince Oleg, who holds his son Igor in his arms. Oleg is dressed like a real Russian hero. He is wearing a traditional helmet and chain mail. In his hands he holds a sword that should frighten enemies. If such strong people stand on guard, no one can invade our land.
Striking bright colors that overwhelm the picture. Three basic tones prevail: white, blue and red. And it is no coincidence. These are the colors that are associated with the Russian flag. Prince Oleg personifies the power of our country. There is another shade here – golden brown. It becomes a kind of border between these basic colors. With them, the artist creates contrasts. The painter skillfully uses rich colors. Brush strokes are broad and free. They are important for transferring those important thoughts that the author puts into this canvas.
Glazunov was able to create a symbolic image, but at the same time he is as real as possible. This is an ordinary person. In his eyes you can read determination and calm. Before us is a real giant. His strong body and muscular arms seem to be specially created in order to protect people from a possible enemy.
The figure of the prince with a small Igor in his hands occupies almost the entire space of the picture. Directly behind him is the endless blue sea. On it sailing ships sailing. The hero has nowhere to retreat, and he will never do that. The sky is merged with the sea. It creates one wide and deep space, striking the magnificence of colors and the grandeur of thought. It is real and fabulous at the same time.
Glazunov wrote the legendary prince, but he also put his patriotic thoughts about his homeland into this picture. The audience creates an elated mood. We are beginning to unwittingly be proud that such giants defend Russia.