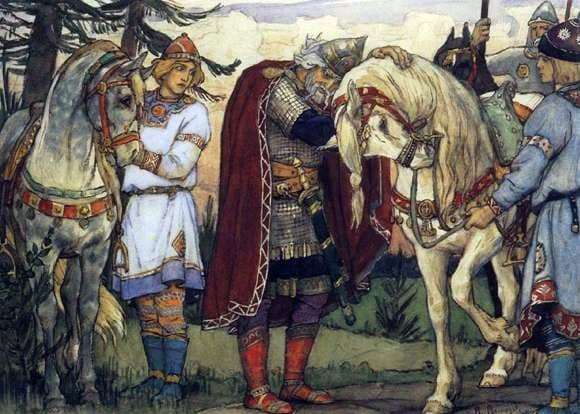 The creator of artistic masterpieces in the folk and historical genre is the painter V. M. Vasnetsov. Many will recognize the work of this Russian artist from illustrations of fairy tales and poems seen in childhood.
"Oleg's farewell to the horse" – watercolor work for Pushkin's poem. This work in rhymed form tells the old legend of Prince Oleg. The bogatyr, following the tradition of those times, turned to the Magus and he wondered to a strong soldier the death of his own horse. The owner of the faithful horse made the decision to part with his constant companion in order to avoid death. He ordered to care for animals: bathe, drink clean water and feed the best grain. Then the prince said goodbye to his native land and, taking another horse, went to conquer other spaces.
Returning after a long journey, he asked about the old horse left. He was informed of the death of the animal. Oleg wanted to see the remains of a deceased devotee friend. Seeing them in the ground, the bogatyr grinned at the doomed death. But then a snake crawled out of the horse's skull unnoticed and mortally stung a man. It is impossible to prove it. However, the ancient legends that have come down to us continue to enthrall the imagination and inspire many artists.
Vasnetsov in the picture of 1899 depicted the moment when Oleg, a tall, strong man in steel armor, leaned his head against a white horse. There is a bitter farewell between the bound souls. The person standing next to him holds the reins, intending to quickly lead the dangerous animal away. The prince's face is stern and resolute.
The background for the canvas is the Russian steppe with tops of fir trees and a cloudy sky. The coloring is very diverse: in the spirit of folk craftsmen the picture is replete with traditional patterns and scarlet colors.
"Farewell, my friend" – the poet wrote in a poem. So the soul feels this remark in the silent canvas of the artist Vasnetsov.