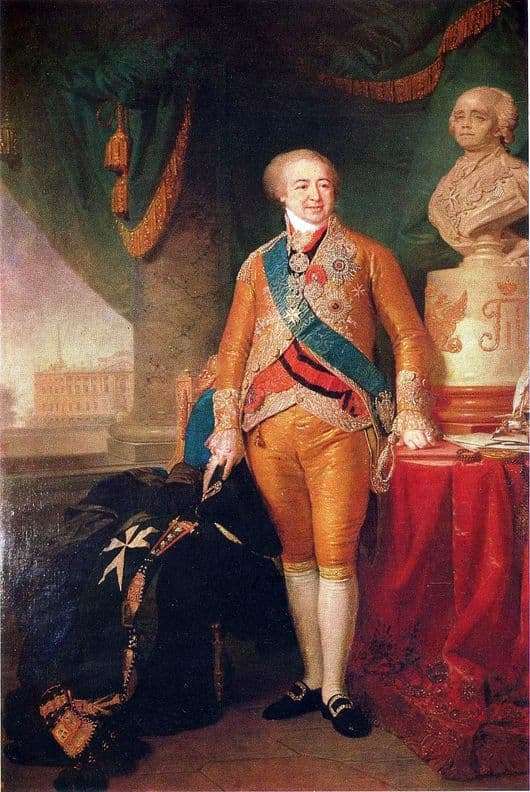 Vladimir Borovikovsky is a virtuoso portrait painter of Ukrainian origin, all his life he wrote the high society of Russia. The recognition came to him relatively late, but in his short career as a painter, he managed to get the title of academician.
"Portrait of Prince A. Kurakin" – is the pinnacle of the artist. It was on this canvas that Borovikovsky could very accurately convey the pathos inherent in the Russian nobility of the Enlightenment. On a huge canvas, the size of 260×175, the author portrayed Alexander Kurakin, vice-chancellor, member of the State Council and approximate Paul I.
The first thing that catches the eye, looking at the portrait – the situation depicted in the picture. No one even has a question, what is this portrait portrait. But on what it is worth sharpening your attention – the details with which Borovikovsky's canvas exclusively filled the canvas. Portrayed stiffened in an official-pretentious pose. He leans on the table, which is littered with papers and letters, indicating that we face a high-ranking figure.
It is no coincidence that Kurakin froze next to the bust of Paul I, and behind his back there is a beautiful view of the Mikhailovsky Palace. These details remind that Kurakin is an approximate emperor, with whom they were brought up. However, all these details do not distract our attention from the face of the model, which the artist has made the center of the composition. Nothing is as interesting as the face of a man who has received everything a mere mortal can dream of: an honorable position in society and the title of a grandee who loves luxury. This face, sleek and puffy, very subtly characterizes the noble person.
At first glance, it seems that the compositional decision of the painting is no different from other portraits of the time. It is necessary to pay attention to the masterly painting technique of Borovikovsky. How accurately the artist depicts a pampered lady in a rich jacket, studded with an order and awards to the state.