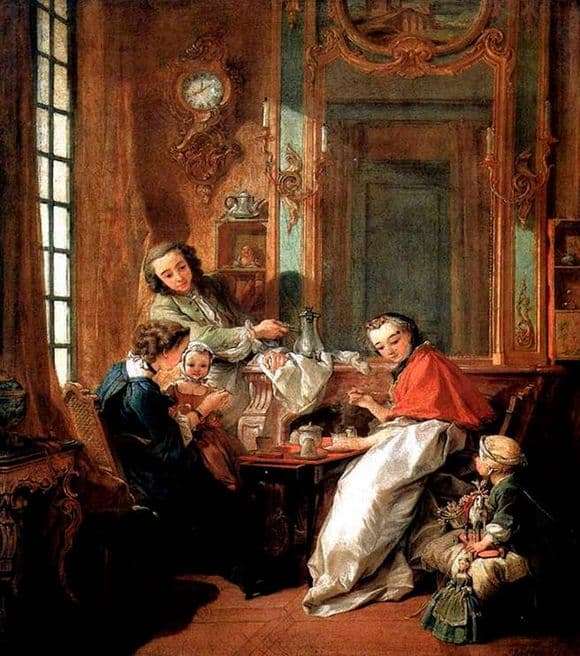 Francois Boucher was considered the court painter of the king during the reign of Louis XV. He became famous not only as a talented artist, but also as a decorator. Boucher painted landscapes, portraits, pastorals, depicting biblical and mythological scenes on canvas.
The pearl of the collection of the famous painter is "Breakfast". It is believed that here the author presented his family or, perhaps, the ideal of his family. He portrays himself, his beloved, children and nanny for meals. Those adults and children are happy, indoors reigns family and comfort.
The picture conveys the warmth of relations between members of a large family, well-being, joy, love: this is evidenced by the color scheme. Shades range from dark to gentle-warm, immersing the viewer in the atmosphere of everyday life of those years. This work, among other things, demonstrated the design abilities of Bush. The artist carefully and in detail wrote out all the details of the interior: a huge gilded mirror, an old wall clock, elegant twisted table legs, a beautiful set, ornate figurines on the shelves, children's toys. But especially elegantly made clothing characters depicted on the canvas.
Little girls are dressed in tiny fluffy lace dresses and caps. Women demonstrate a sense of style and taste: even a nanny is particularly elegant.
The artist worked through every detail, making it not only beautiful, but also meaningful. A doll standing in the legs of a girl, furniture, objects standing on the tables and on the shelves. For example, the Buddha standing on the shelf says the popularity of Chinese art in those times.
The work allows not only to feel the happy moment, so vividly remembered by the author, but also to learn about the lifestyle of those years, the spirit of that era and some luxury, so skillfully conveyed by the ingenious creator.