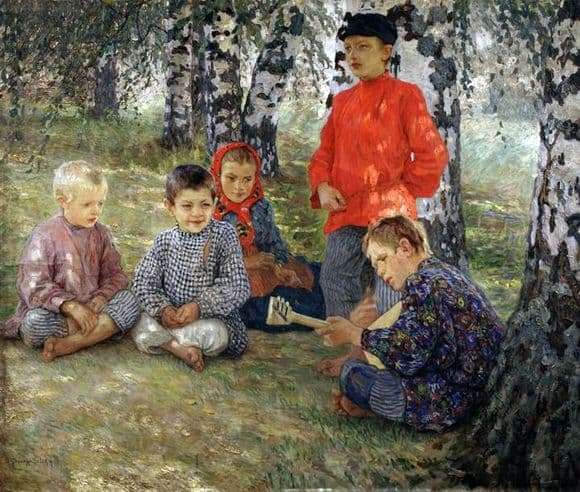 Nikolai Bogdanov-Belsky devoted all his creativity to simple village children. He did not just love them, he knew them, understood, felt, because this academician himself was a barefoot village boy as a child.
He did not have a father, he was illegitimate. And the mother is too hard and struggled a lot with poverty to give the little boy special attention – there was no time. Kohl himself worked as grazing cattle on summer days. But in the winter the boy studied.
Fortunately for him, he met such a wonderful teacher who not only managed to see a great talent in an ordinary boy, but did everything so that the boy's talent did not get lost.
The painting "Virtuoso" depicts a flock of children who are enthusiastically listening to a little musician. The virtuoso himself is fascinated by his game, his eyes are closed, his eyebrows are frowned… It is clear that the boy is not up to the conservatories and music schools, most likely the boy himself learned the game. But he mastered this complex science, otherwise children would not be sitting around him watching his game.
The faces of the children are bright and clean. Each face has its own character, its own little story. Here is a bright little boy – the sounds of the instrument for him are a real miracle. Of course, the village children saw the balalaika, but when your friend plays on it, this is a real marvel. Therefore, he does not take his eyes off the skillful hand of a little virtuoso.
Dark Boy – he likes the game. Yes, and the performance, too, but… But suddenly the virtuoso makes a mistake, can this be? This expression is written on the sly face of the boy.
The girl in the red scarf just listens to the melody, and a smile appears on her face.
The older boy is standing and looking thoughtfully into the distance – the music has inspired something to him. Apparently, a little musician is really a virtuoso, if he makes his friends and us, admirers of Bogdanov-Belsky, think.