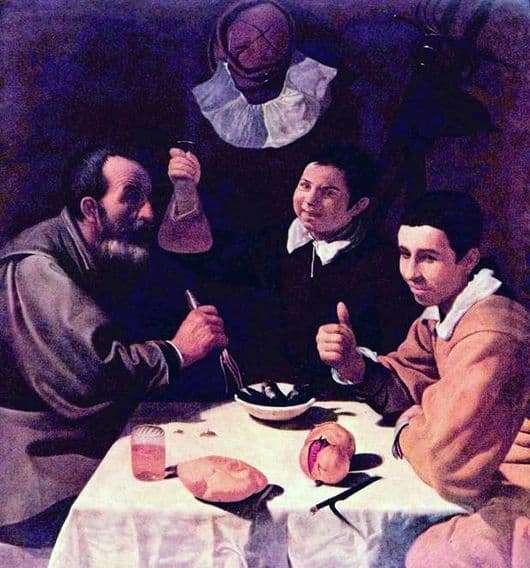 Diego Velázquez is one of the most beloved artists of the world, and besides, he was one of those for the king, whom he served faithfully until his death. Drawing portraits of courtiers, exterior gloss and the setting of huge palaces, the artist never forgot about the simple people who could never afford such luxury. Therefore, from time to time in the artist's work, his desire to do something for this people was manifested, even if it would be just a picture. Although it is impossible to minimize it in this case, since it is not just a picture, but a picture of the very Velasquez.
Two young men, sitting at a table covered with a white cloth and talking to an old man, whom they apparently invited to their breakfast – this is the first plan of the picture. The artist skillfully depicted the faces of the guests, young people smile and make toasts, which can be understood from the fact that the cups are filled and raised, and the waiter is waiting behind to fill them again.
The old man looks at them, as if from some distance, as old age looks at a living youthful key. The figures in the foreground are highlighted and they are clearly visible to the viewer, everything else is obscured, and even it is not clear that there, in the background, roofing felts are in fact a waiter's figure, roofing piles of things. The light falls only on the figures in front, and according to the artist's idea there is a contrast of light and darkness, youth and old age.
According to the assumptions of researchers, depicting one of the young boys, the artist gave him the features of his own face.
The painting "Breakfast" was written around 1617, and fully complies with all the canons of Spanish painting of that time, since all objects are saturated with severity and proportionality, starting from the image of a still life, and ending with writing out the faces of those present.