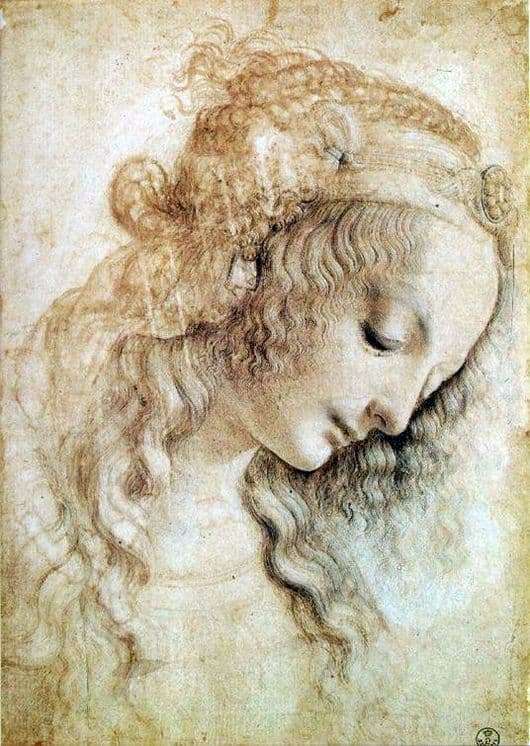 Leonardo Da Vinci – the great artist of the Renaissance. The most important feature of his work is that he with incredible accuracy and expressiveness conveyed the emotions of a person in his paintings, carefully drawing absolutely everything, even the smallest details. In order to complete the work, the great artist repeatedly made multiple sketches and sketches, thanks to which the experts subsequently analyzed the artist's work and drew the appropriate conclusions.
The same applies to sketches of female faces. "Woman's head" is made with a silver pencil and red chalk on pink prepared paper. Some researchers and experts are inclined to believe that this Da Vinci drawing is a sketch or sketch for the more famous painting "Madonna in the Rocks". The painting shows a young woman in profile, with a slightly bowed head. In an incredible way, Leonardo Da Vinci managed to convey her emotions: it manifests itself in the eyes of the girl, the lines of her lips and even in the hair that flows smoothly over her shoulders. Many researchers have spent more than a dozen years to study the paintings and works of Da Vinci.
I must say that nowadays disputes do not subside. However, the majority believe that the sketches, including "The Woman's Head", are sketches that the great artist made before creating a real work of art. Sketches and sketches by Leonardo Da Vinci are invaluable as a world heritage. In addition, the sketches help the experts to understand what the great artist wanted to convey with his work, what to convey to future generations and what he wanted to say to his descendants.