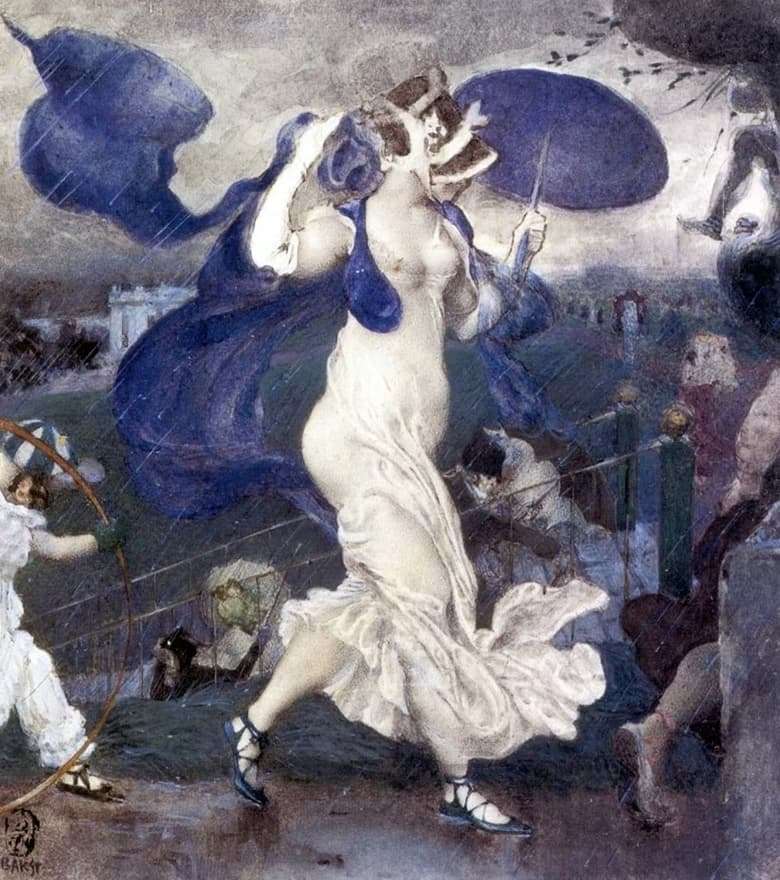 Year of creation – 1906, materials – paper, ink, gouache, dimensions – 15.9 by 13.3 cm. Stored in the Russian Museum, St. Petersburg, Russia.
Leon Bakst is a magnificent graphic artist, set designer and decorator, originally from the Belarusian city of Grodno, which is not so widely known now. Nevertheless, his work deserves special attention. He created the sets and models of costumes for many theatrical productions of the great S. P. Cocteau, artist I. I. Levitan and many others.
Difficult work, saturated with a multitude of actors and details, transmits the rapid movement, suddenly caught in the rain of various characters, most of whom do not even fit completely into the "frame". To the right, behind a stone support, is a woman in a dark, eggplant dress, whose hem bared her leg. On the left, the figure of the fabulous little acrobat boy in a striped cap is cropped off the edge of the sheet.
A little further along the bluish steps of the stairs runs a lady with blond hair in a black dress and a gentleman with a large black and white umbrella. But in this chaos permeated with oblique jets of wind and gusts of wind, a girl stands out in shining white gloves and an empire dress, hat and cobalt shoes with ties for the beginning of the 20th century. She is little helped by a round silk umbrella for walking – a deep neckline trimmed with delicate laces, wet and no longer hide the outlines of tender breasts. The skirt made of airy fabric stuck to the legs in details traced in soft folds. The blue cape, like a raincoat, flew off to the side and flutters behind its back. The hostess is trying to hold her right hand.
In a limited color range, the master was able to favorably emphasize all the elements of the plan and show the bad weather in an unusual perspective and beauty. The image can be interpreted in different ways, it even seems that the main character is a beautiful rain nymph.