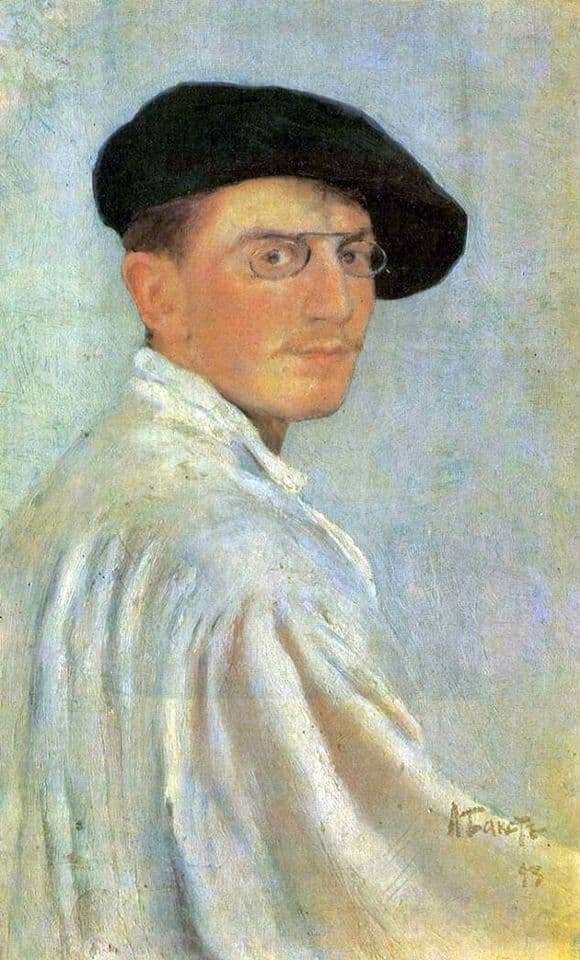 The painting, written by Leon Samoylovich Bakst in 1893, is now kept in the State Russian Museum, in St. Petersburg. It is known that Leon Bakst was recognized as a real trendsetter in painting, such as Orientalism of the early twentieth century – the desire for exotic, "unusual".
After studying at the Imperial Academy of Arts in St. Petersburg as a free listener, Leon Bakst absorbed all the best in his creative style and became a prominent artist of the modern era.
A true master of the portrait, Leon Bakst used a wide variety of writing techniques: from light strokes of different size brushes to bright, clear and flexible lines. Using contrasting tones, Bakst, like many other artists, highlighted the main details in his portrait in his view.
The self-portrait of the artist belongs to such a movement of art as symbolism. The oil painting exudes an inner soft light, the glare on the artist's face harmonizes with the smooth material of his blouse, the image itself fits into the background of the portrait very naturally, the clothes with their lightness of halftones almost blend with it. Deployed to the floor, the artist looks directly at the viewer, but not persistently, but gently watching, as if peering into the very essence of something beautiful.
In the eyes of Bakst reflects a passion for his beloved work – art, and silent contemplation, observation of life in all its manifestations. The rich black color of the velvet beret – as an eternal attribute of the romantic creator is present in the artist's self-portrait. There is no narcissism in it, there are no superfluous attributes, and the soft, light shade of tone does not distract the viewer's attention from the most important thing, it allows you to feel the real artist looking straight into his eyes. So we see the master portraits, a prominent artist of the twentieth century – Leon Samoilovich Bakst.