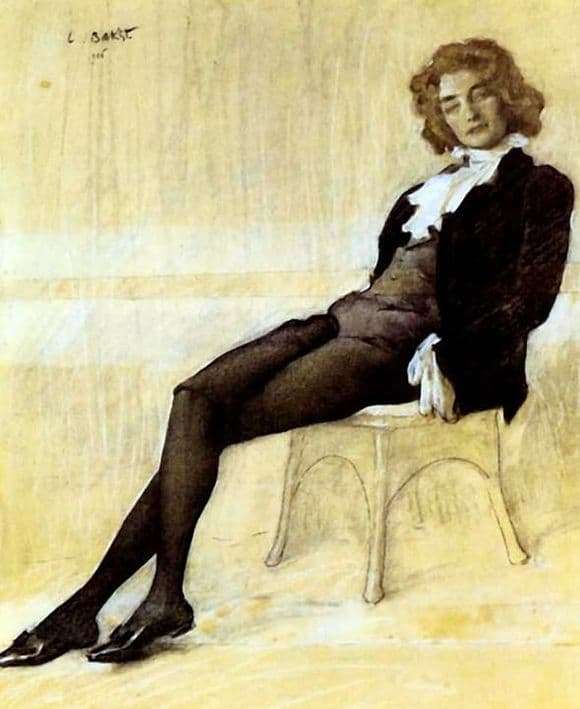 Leon (or "The Lion") Samoilovich Bakst was one of the most talented set designers and artists of the turn of the century.
First revealed himself in the art world association, where he worked side by side with his friend Alexander Benois, Bakst was rapidly gaining popularity in painting circles with his successful graphic sketches, book illustrations, sketches for theatrical productions of many theaters and, of course, amazing in their simplicity portraits.
Lev Samoilovich constantly existed among the resplendent domestic intelligentsia – poets, writers, artists – and many of them were destined to remain impressed with the brush of their talented friend.
Zinaida Hippius is no exception. The famous poetess, known for her shocking behavior throughout the entire cultural capital, is depicted by Bakst freely seated on a chair in an unusual costume. This is an old men's outfit, consisting of trousers, snow-white shirt with a collar and a jacket.
It was impossible for a woman to appear in trousers and a man's jacket at that time – this was not allowed in society. But Gippius destroys stereotypes easily and with taste, and Bakst skillfully captures her shocking move in this portrait.
The work is written in the tradition of the best portraits of Bakst. The artist worked on it in 1906 and coped very quickly. The image of the figure is given in full growth, an interesting compositional construction leaves an impression on the viewer. The heroine is located in the entire format, which conditionally pulls her out, and the black and white coloring simplifies and underlines the line.
Bakst deliberately leaves the background empty, prescribing in detail the face of the poetess and her costume, which was clearly emphasized to increase the significance of the personality of this heroine and show the attention that Gippius always deserved.