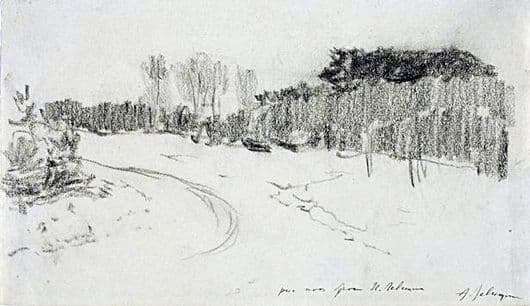 Any artist has a sketchbook – this is such a folder where sketches, sketches or just sketches of details for the future canvas are put together. Many museums keep such sketches from da Vinci or from Monet. There are such sketches or sketches and Levitan. Before us is one of such works, made in pencil on plain paper. When you look at this work for the first time, it seems that these are just some Kalyaki-Malyaki.
Although in fact it is just an interesting canvas. But questions remain. If the forest is where the trees? If the road, where is she? Levitan in this figure managed to mark only a few strokes of the forest and the road, and even the presence of snow, so that there was no doubt that this was a winter sketch. How did he do it? This is purely artist skill.
With simple gray-white divorces, he identified the forest and that nobody would have doubted, a darker mass appears a little higher, say, fir or pine. And the road is not marked with a straight line, but as if on a turn and at the corner of a turn, he depicted a Christmas tree.
Simple pencil lines give us an idea of ​​where the road turns and how it determines the drifts on the road. Now of course the paper is yellowed, but if you imagine it in its original form, the presence of snow was noticeably noticeable. It is a black simple pencil capable of such voluminous and at the same time almost simple sketches. And the colors are not needed – everything is extremely subtle and understandable.
And such etude sketches from Levitan, and any more or less well-known artist, as a rule, are many. For example, Levitan has more than a thousand of them. Why are there so many of them? Simply, such a sort of rough work helped the artists to find what they need or correctly depict a gesture, a look, a subject. By the way, the same da Vinci was looking for the face of Dzhokonda for a long time, constantly making sketches.