Home

⇒
📌Degas Edgar

⇒
Description of the painting by Edgar Degas "Prima Ballerina"
Description of the painting by Edgar Degas "Prima Ballerina"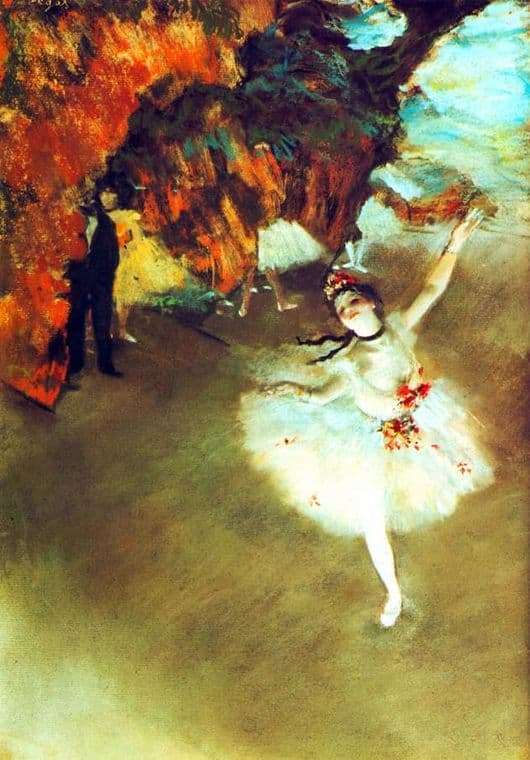 The end of the ballet performance. All the artists are behind the scenes, and only the prima ballerina goes out alone. The audience is raging, the audience is not exiting. And she gracefully bows as if to every applauding person separately.
It is her duty to thank the audience in this way for the fact that they did not leave the hall and watched the ballet to the end. For not booing and not flooding her exits and the work of all ballet participants. She bows low and, having received a portion of applause and flowers, leaves the stage backstage. The curtain closes, and the triumph will continue in the dressing room, where there will be no peace from obvious and secret admirers.
But while there is a performance and the prima ballerina is dancing. He works and earns fame for himself and the theater. Ballet is hard work, hard labor. The ballerina retires when she is still quite young, and therefore you need to have time to give up
your talent and show your skills. Often they left the stage sick, or died without ever leaving the stage.
Degas depicted the triumph of one such prima just on the canvas. Everybody watches from behind the scenes how talented this actress is dancing. And how the audience reacts, because the success of the whole performance depends on its dance.
Degas probably guessed the point or the basis of the angle of the canvas. He did not dwell on the details. Only the prima herself is well discharged, everything else is somehow smeared: scenery, backstage, actors and actresses. Everything is stopped on her dance, on her success. Therefore, the canvas is somehow disappearing… The effect is stunning and it seems that momentary. Degas, after all, was one of the Impressionists. And the momentary is the important basis of this style. The artist showed everything in one canvas…
This canvas is one of those paintings that are included in a series of paintings about the theater. There are several of them, it is immediately apparent that Degas himself was not indifferent to this kind of art.





(
2
votes, average:
5.00
out of 5)
Description of the painting by Edgar Degas "Prima Ballerina"