Description of the painting by Edgar Degas "Blue Dancers"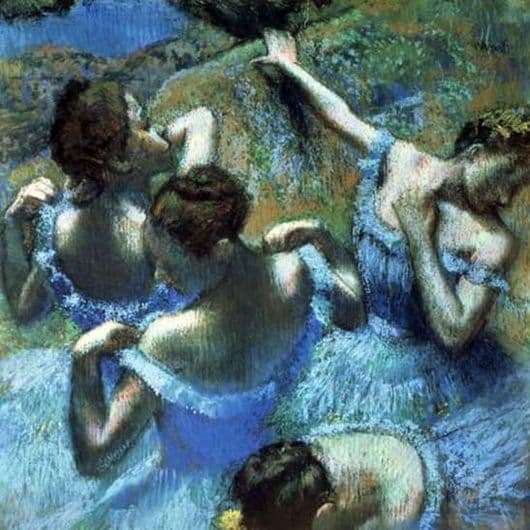 Want to look into the world of theater backstage? Out of the corner of my eye to notice the pre-premiere bustle, try to feel the excitement of the artists before going on stage? The best expert in ballet among artists Edgar Degas with his works will help the viewer in this. As you know, Degas practiced direct personal visits to theaters, where he carefully observed the movements of ballet dancers, noting every detail in the psychophysics of the artists, and then carefully passing them on in the smallest nuances on his canvases. The painting "Blue Dancers" depicts four ballerinas in ballet tutus of blue color, who are probably waiting for their party.
We find the girls at the time of the final preparations, when they check whether the stage outfits are in order, whether the hair is arranged correctly, because after a minute of time they will not have it all. It would seem that, There is nothing unusual in the picture. But if you take a closer look, you get the impression that we are seeing, as it were, a still frame of a silent movie. As if the girls froze for a second, to startle back to their occupation. And this occupation may well be the dance that dancers perform. After all, someone will see and present just such a fragment of the work of young ballerinas.
Full of charming grace, the heroines of Degas whirl in an enchanting composition, when they were stopped by the artist's brush for just a moment. However, someone has the right to offer his version of what is happening in the picture. And what if only one dancer is involved in the plot, but drawn from different angles? This is also possible, despite the fact that the name refers to the plural number of girls. Regardless of age, and the canvas dates from 1897, "Blue Dancers"





(
2
votes, average:
2.50
out of 5)
Description of the painting by Edgar Degas "Blue Dancers"