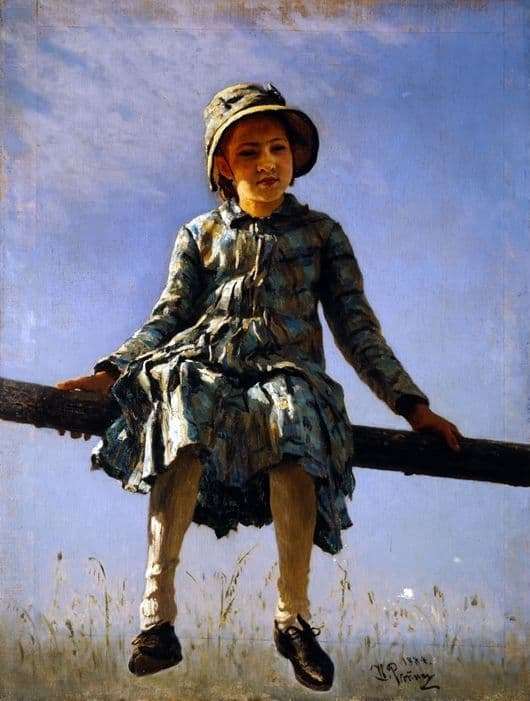 Despite numerous works in the genre plan, Repin often created portraits just for the soul. Especially clearly stands out among the canvases. Depicting members of his family, the cheerful image of the master's daughter. Being in 1884 in Penaty (near St. Petersburg), where his favorite dacha plot was located, the painter creates a canvas with the funny name "Dragonfly" (posed by little daughter Verochka).
As a rule, children always frolic and have fun, so Repin often had to be a witness to his wonderful girl sitting on the crossbar, shaking her legs like a dragonfly on a stalk. And at one point, he decided to capture the childish mischief on the canvas.
It turned out even very funny. In the center of the canvas, we see a girl in a hat, who is naturally seated on a wooden crossbar. Her silhouette illuminates the warm sunshine, they give cheerfulness to color, the play of light and shadow to the plot.
From the canvas to the viewer, as if, emitted a mass of fervent child energy, immediacy, curiosity. It seems that the girl can not sit in one place, and that look will run away. While working on the picture, the author is especially attracted by her carelessness and mischief, precisely emphasized on the canvas as the main features of a childish character. At the bottom of the canvas, Repin stands for lonely blades of grass that do not appear clearly against the background of the airy expanse that gently hides the horizon line.
On this canvas, the master accurately reflects the immediacy and excitement in the character of the child, which unnoticeably takes the viewer to the carefree world of childhood. Probably, when creating such portraits, he allowed himself a break from the complex large works, just rejoiced at life among his relatives and especially children.
Now this picture can be seen in the permanent exhibition of the Tretyakov Gallery.