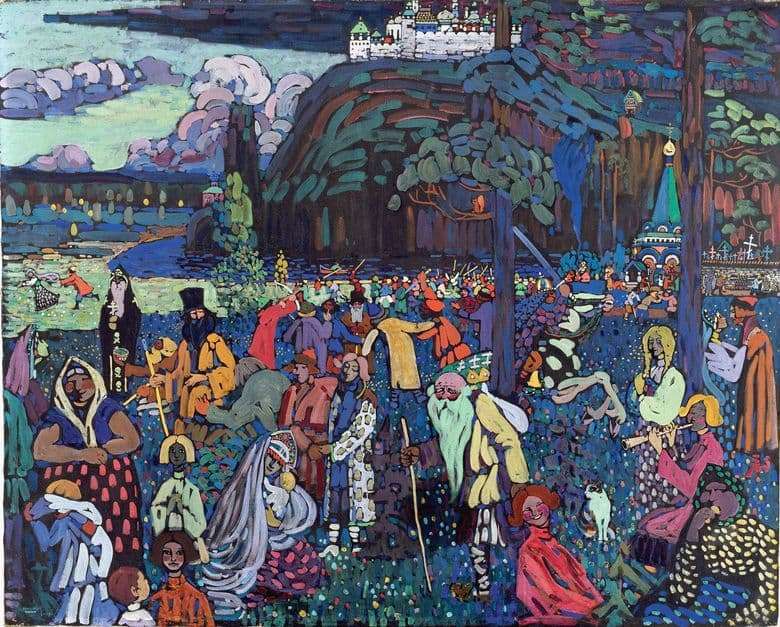 The colorful life (La Vie melangee) is a picture of one of the founders of abstract art Vasily Kandinsky. After purchasing the Bavarian State Bank, the picture has been exhibited in the city gallery Lenbachhaus in Munich since 1972.
Many art critics agree that the "Bright Life" is considered one of the key works of the artist. This is a vivid hymn to Russian traditions – in contrast to the common aspiration of the tsar and the Russian elite to accept Western culture.
In 2017, it became known that Kandinsky's painting belongs to the family of Dutch Jews Lowensteins and was illegally seized in 1940 after the German army occupied the German army – a case of illegal Nazi robbery. Now in the US court filed an application for restitution.
Wassily Kandinsky completed his work on the group of color drawings in Paris in 1907 with the work "Colorful Life". The love of a bright life in the work of a young artist is combined with the influence of folk art. People in their bright costumes run like colorful live pictures on two legs.
Kandinsky shows here what makes up human existence. Russian matron bites the apple, the woman is looking for tones on her flute. The newlywed couple wants to kiss, the father shows his cross, and the old traveler is singled out by his unexpectedly green beard. High above the clouds is the castle. From this picture it is absolutely impossible to understand how Wassily Kandinsky came from his objective early work to his abstractions, with the help of which he revolutionized the history of art.