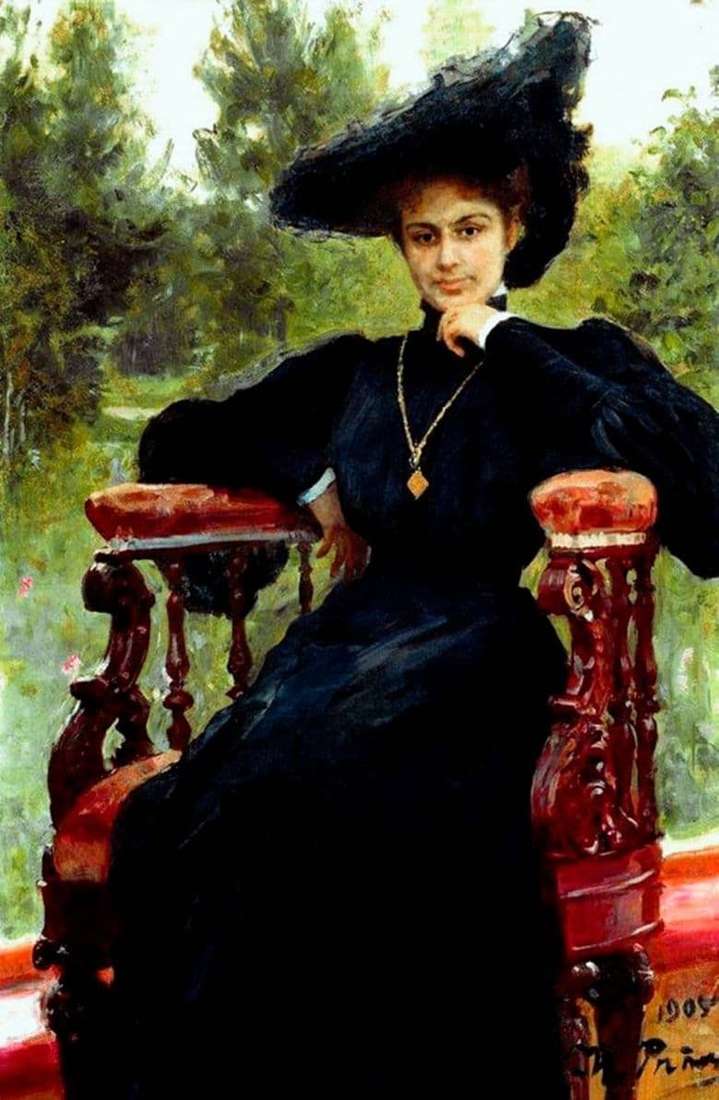 The painting of Ilya Repin captures one of the most brilliant women of the beginning of the twentieth century – Maria Fedorovna Andreeva. This woman was a wonderful theater actress and was highly respected in cultural circles. But most importantly, she had a very bright, explosive character. It was the woman's irrepressible temperament that he tried to convey to Repin in this work.
In the picture we see a woman in a sitting posture. The body of her body is rotated three quarters. Woman has a black dress. The master skillfully prescribed each fold on the fabric. It feels as if it is velvet, casting a blue. On the head of Mary's ladies hat. It is immediately obvious that the girl was a big fashionista and in every possible way showed it in public. A very interesting point – the contrast of the dress and cap. A modest, but from an expensive fabric dress, with slightly protruding white cuffs more like monastic clothes. But the richly decorated, wide-brimmed hat of an interesting, fanciful form completely dispels the feeling of chastity of the heroine of the picture. As an ornament on the chest, Maria has a golden pendant of a rhombic form.
Maria Fedorovna posing artist, sitting in an expensive chair. The artist intentionally painted every detail of the chair to emphasize its value: soft upholstery on the seat and armrests, carved mahogany back. In the background is a garden. Luxurious greenery on trees contrasts and at the same time emphasizes the stately figure of the ladies.
First of all, when you look at the picture, the expression on the face of Maria Andreeva is striking. Her eyes are strong, passionate, strong-willed. Femme fatale. But she scoffs – the corners of the mouth are directed upwards. These small details, like color contrast, deliberately inappropriate clothing to each other, tell us about the restless nature of the portrait, about her inner struggle. The artist was very well able to convey, to our viewers, the inner spirit of Maria Andreeva, especially during her secret dedication to the Bolsheviks.