Description of the painting by Frans Snyders "Still life with fruit"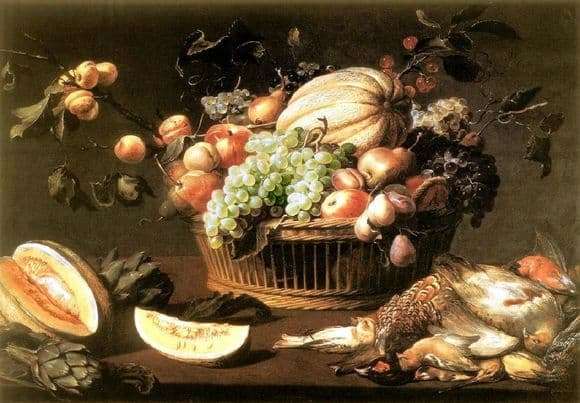 The famous Flemish master Frans Snyders painted animals and still lifes. He wrote ingeniously: bright and generous. Most of the customers for his canvases were well-off gentlemen who lived in palaces and large houses. In the dining room on the wall, they wanted to see beautiful images that awaken the appetite and speak of the wealth of the owners of the dwelling. Snyders has done an excellent job with this task.
On his canvases, as if from a cornucopia, fruits and vegetables, local forest game and overseas delicacies are poured out in a chaotic manner. The artist's dead animal and plant world coexists with the living. Still lifes are animated by the movements of monkeys, parrots, squirrels, cats, who are lured by the scent of meat, nuts and sweet fruits. Pictures of the Flemish painter – a real ode to appetite. He also liked to write game hunting scenes, with the cruel chase of beagle dogs.
"Still Life with Fruit" – one of the paintings of the artist's prolific talent. It was created in 1616. At this time the society was absorbed by the ideas of Baroque, which, of course, was reflected in the work of those who wrote the surrounding reality.
The artist's paintings are lush, even too crowded with objects of composition. But this exaggeration does not burden his canvases. Still life with fruit harmonious, detailed, with skillful soft lighting and very tasty.
In a wicker basket, semitransparent luminous grapes, ruddy pears with apples, freckled apricots on a branch with leaves, melon and a cut slice, look like an invitation to the table. On the right side are the gifts of animal nature – carcasses of various birds.
In the years of his life, Snyders did not surround such a number of dishes in the shops of hunters and gatherers, but in reality nature is as extraordinarily rich as a talented artist writes in still-life.





(
2
votes, average:
3.50
out of 5)
Description of the painting by Frans Snyders "Still life with fruit"