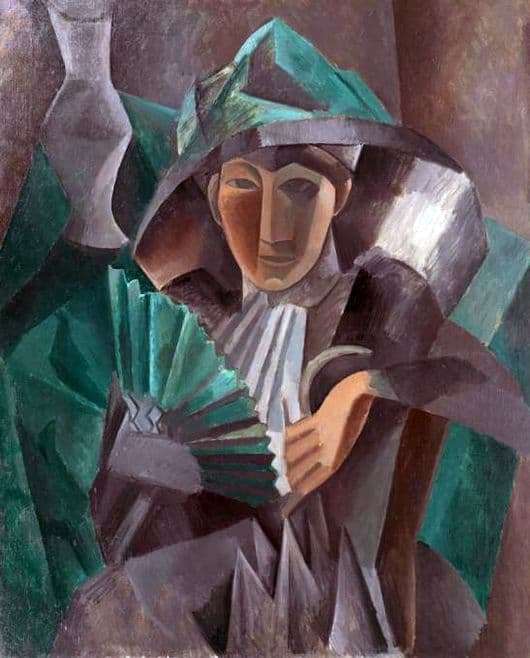 The painting was written by Pablo Picasso in 1909. The painting was written in the African period, when the painter found inspiration in archaic African art, its primitive forms.
The artist tried to find the means of expression that could express the unique that was open to the inner vision of the painter.
Picasso visited in 1907 an exhibition of African sculpture, which was held near Paris, in the Trocadero Palace.
The artist realized that he was finally able to use those unique means that would allow him to express the spirit of modernity with maximum force. The nature of Picasso is deliberately deformed. Using special brushstrokes, the master creates unusual, as if carved, outlines of each object.
The artist did not just see the decorative wooden sculptures. He understood that all thoughts and ideas were embodied in them. The painter reflects in his works a special tension and their fullness with drama. We feel the whole inner complexity of each image.
Picasso did just like nature itself. Each of his creations was a system of signs that were filled with incredible inner meaning. Picasso said that the signs are necessary for this. African sculpture helped shape this particular attitude of the artist to his own creativity.
On the canvas parts become real plastic signs. We see a lady sitting in a chair. She holds a fan in one hand and a graceful umbrella in the other. Unusual facets saturate the entire space of this creation. Each object is depicted at a particular angle, which allows you to feel a special rhythm of the entire surface as a whole. The face of the ladies resembles a characteristic ritual mask. It interacts with the vase. Special lighting and a special tone of each detail increase the maximum intensity of the game. The look of the model is special. It enhances a truly sinister impression.
The whole color of the canvas, which is a special combination of gray and green with spots of red tint contributes to the same. Each item is gouged out of wood.
Painter, like a sculptor. He introduces another dimension into the painting space. Picasso said that from the cut and re-assembled paintings, you can create sculptures.