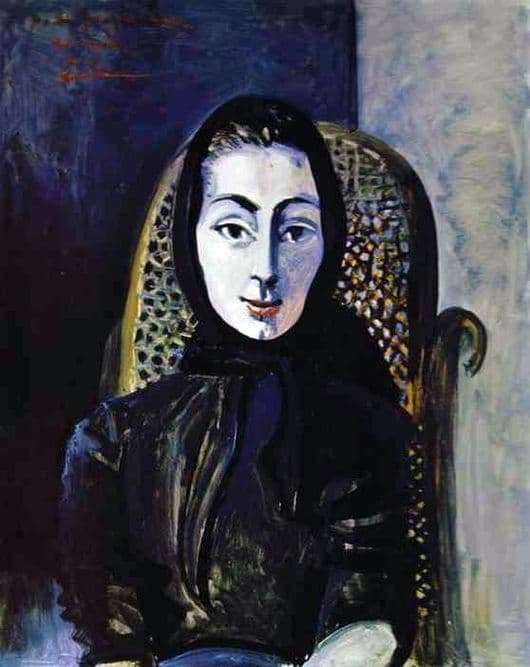 Jacqueline Rock – one of the beloveds of the famous Spanish master, his last muse, was the most devoted fan of his talent. She was the model and wife of Picasso, with whom he lived the last 20 years of his life, and most of his canvases are devoted to this woman.
On numerous portraits made in various techniques, she appears with the same thoughtful look of large dark eyes, a rare almond shape.
This portrait, written at the very beginning of Picasso's acquaintance with Jacqueline – in 1954 – is one of her most realistic portraits, whose style is too far from Picasso's usual "cubism". It is written with special tenderness and love. She appears not as a strange cubo-futuristic composition, but as a very real, living woman. Jacqueline is depicted in a belt, her elongated pale face looks straight into her long, dreamy and tender look, filled with thought and feelings.
The whole picture is made in cold, dark, calm tones – a gray-black background, a woman in dark clothes and a black scarf, emphasizing the whiteness of her skin. The picture does not seem gloomy, on the contrary – cold tones give it a special charm, as if it was written at night in the moonlight, or at dusk.
This woman was not only an artist's muse. She selflessly loved the great master and cared for him during his old age, when he was nearly blind. After his death, she was so grieved that others seriously feared for her condition… She managed, however, to recover, she became the custodian and manager of Picasso's large-scale creative heritage. But despite this, on the eve of one of the great exhibitions of Picasso in the Spanish capital, she shot herself, thus, having survived only by 13 years…