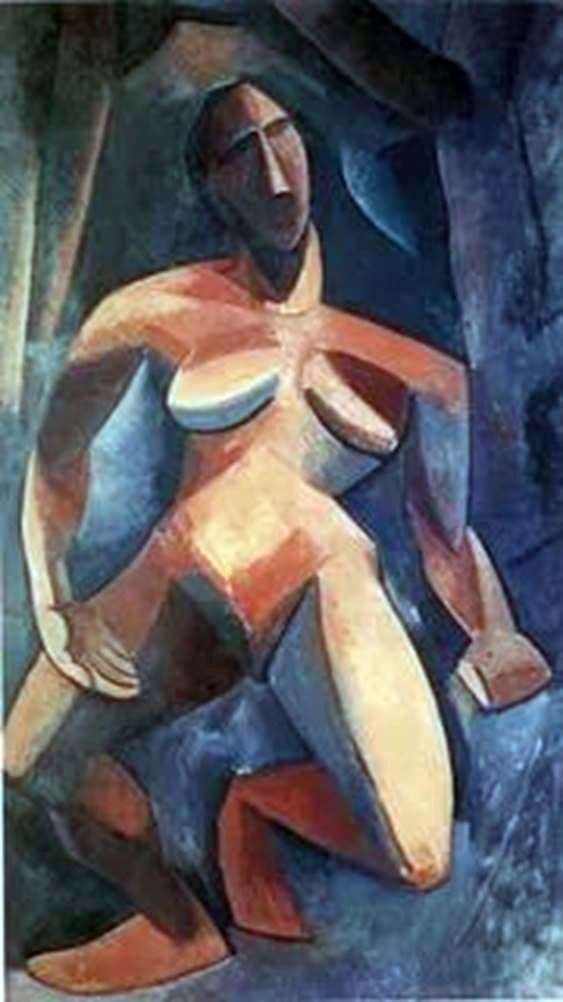 Pablo Picasso painted a magnificent overall painting "Dryad" or "Nude in the Forest", painted in oil on canvas in his African period.
The art of Africa has always attracted the artist. He admired the exhibits in museums, admired the unusual attraction force of the magic of sculptures, which were often rough, but very attractive.
The painting was painted in 1908. The painter depicted in the picture is not the woman, not the idol from the tree. It seems that he simply pushed out of the thicket of the ancient forest spirit deity – dryad. The master of the brush believed that the magic of Mother Nature can be easily conveyed by the magic of colors. In early Cubism, the painting "Dryad" is favorably distinguished by the fact that it is filled with the energy of life, because the wooden idol is not a frozen figure, but Galatea, who is gesturing.
The fact that the writing of the "Dryad" Picasso approached in a special way, shows the size of the canvas. The artist carefully transferred the carefully thought over composition to a large canvas. This suggests that the picture is quite significant.
Background canvas peculiar. The sculptural figure is framed by two trunks of dead trees that form a niche. The dryad itself is pushed forward. The color decision is also specific: the face is darkened, and in the whole image the shade of yellow ocher prevails. The main thing that impresses the viewer when looking at the Dryad is the simplified writing style and coarsening when depicting a female body.
For such actions the painter encouraged outrage, because Picasso sought to convey reality using the simplest methods. His work was not reduced to geometrization, it has its own meaning.
The mysterious world of Dryad is dark, open to dark forces, it is not illuminated by the light of the sun. The silhouette of a woman, executed in shades of brown (from light to dark) is a bit vulgar, with hidden energy. This is evidence that the artist often reflected on the contradictory nature of human nature.