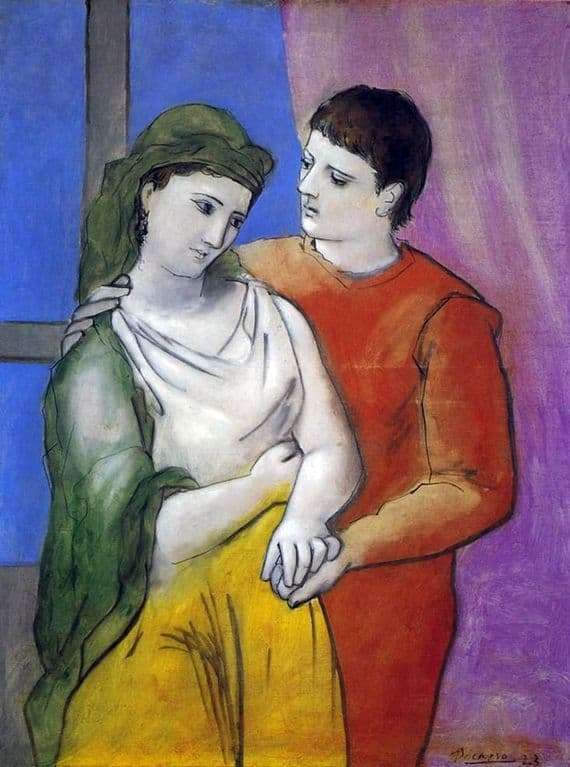 The picture was created in 1923 in oil on canvas.
Picasso is a brilliant artist who left his artistic legacy, striking its uniqueness. The works of the great artist do not meet analogues. Understand Picasso given by no means all. At the first acquaintance with his works, they are shocking. In the world of ambiguous attitude to his work. Someone admires and considers Picasso a genius, someone does not understand and completely denies his painting.
The artist's life is divided into different periods, each of which has its own name. All of them influenced Picasso and were reflected in his canvases.
The painting "Lovers" belongs to the period called "classicism". He was in the artist's life from 1917 to 1925. The plot shows a pair of lovers. It is not known, perhaps they met and love arose. Perhaps they have long been familiar and each has their own families. A man with love and desire hugs a girl. She lowered her gaze modestly, as if she were very shy about what was happening.
A remarkable moment in this picture is that the couple is depicted in the usual way for ordinary people. After all, Picasso wrote many paintings, where people are changed beyond recognition and deformity. He was also repeatedly accused of hating women and mocking them in his works.
Picasso deliberately distorted faces, figures, once cut the body into geometric shapes. Many researchers explain the negative attitude towards the female, the fact that Picasso had a difficult relationship with his first wife. But there were as many women in his life as there was none.
This work shows us the lovely features of the guy and his lover. Picasso created the picture when he was 41 years old. What influenced him at the time of the creation of this plot? Perhaps he was again in love with another woman.
The canvas is in storage at the National Gallery of Washington. USA.