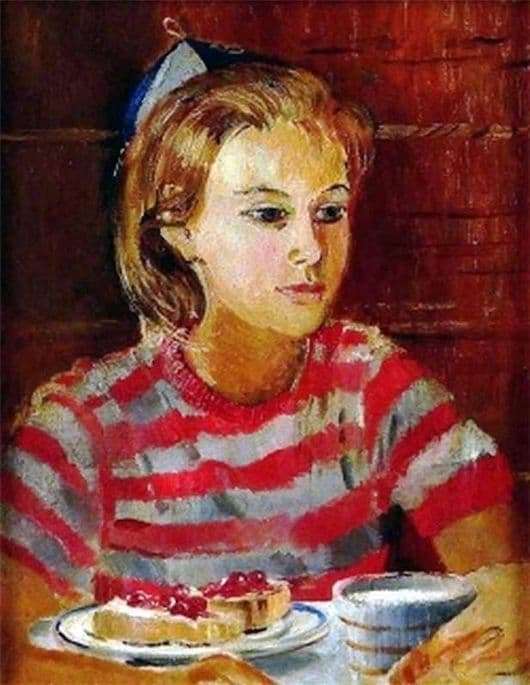 Soviet artist Yuri Pimenov managed to write many paintings during his creative life. His picture "Tanya Pimenova" was especially tender, in which he portrayed his beloved and only daughter. This is not the first female portrait of the artist, painted in light even strokes, but it was this canvas that evoked bright feelings in him.
Tanya, depicted in the picture, sits without moving, her gaze fixed to the side. It seems that the artist caught her suddenly, unexpectedly capturing an ordinary breakfast. Most likely, the girl woke up not so long ago, her thoughts still hover somewhere far away. Tanya has delicate fair skin, barely visible blush on her cheeks. The artist clearly draws the features of her face: big eyes, dark eyebrows, bright lips and a slightly snub nose. girl's hair short swifts, light light brown hue. Dressed it in a light shirt with white and pink stripes.
Tanya Pimenova is depicted sitting at a table during breakfast. There is milk on a table covered with a snow-white tablecloth, white bread and jam sandwiches are spread on a plate with a blue border. The berries are depicted naturalistically, they are round, of the same shape and cause the viewer's appetite of the painting. The girl does not eat, she thoughtfully looks forward, with her arms crossed in front of her.
The background of the canvas is darker than the foreground, it is depicted using a brown tint. Behind the sitting girl is a wooden wall. Right behind Tanya's head, a white-and-blue tack hangs on this wall. The whole picture was written with the help of warm colors of paint, Pimenov wanted to make the portrait soft and gentle, because he loved his daughter very much.
This portrait is popular with the audience. After viewing the picture leaves a pleasant impression. It is harmonious, fresh, bright and very vital. In the hands of a talented painter, the image of a girl began to play with new radiant colors.