Home

⇒
📌Picasso Pablo

⇒
Description of the painting by Pablo Picasso "Self-portrait" (June 30, 1972)
Description of the painting by Pablo Picasso "Self-portrait" (June 30, 1972)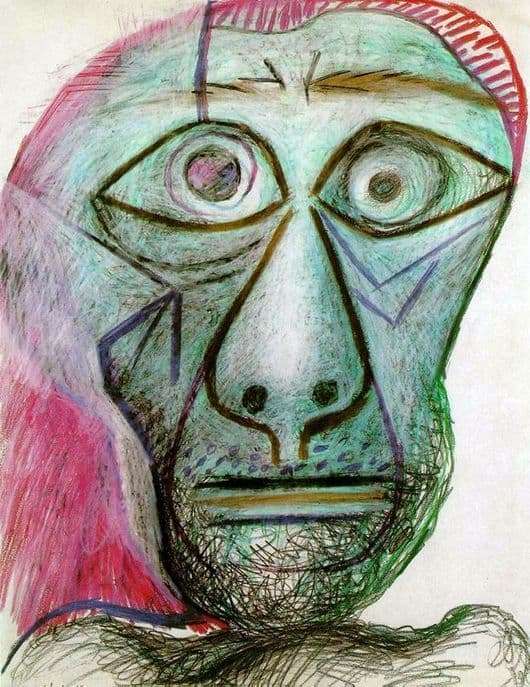 Pablo Picasso – a great painter who wrote many paintings. The artist created the best canvases after his 70s. He wrote quite a few images and, most interestingly in this, more of them were in different styles of drawing. In the African period, Picasso presented a self-portrait, created June 30, 1972, and this work of art completes a series of self-portraits. The peculiarity of the picture is that it is made with colored pencils. All portraits of the artist had a deep meaning, like this one that was created 9 months before his death. All of them were connected with cases from the life of the creator and displayed his state, mood, thoughts, etc. Pablo made his face a "laboratory" for formal experimentation. This work of Picasso is referred to as the "Face of Death." After all, the author has created a very unusual image, which he worked on for 3 months.
Pablo painted with very hard lines and therefore deprived of the image of light, instead of him a dark eerie red background, which greatly enhances the flatness and expressiveness in the self-portrait. A serious and tense person is looking at the audience from the picture. At first glance, you can not notice, behind the cruel face hides vulnerable poet soul. The Creator said: "Who is sad, he is sincere," perhaps for this very reason Picasso chose such an artistic style in order to convey to us his feelings, experiences, the ability of the viewer to feel the soul of the author.
Of course, the self-portrait, like the previous ones, shows us Pablo's dark eyes, but that self-confidence, pride, and a feeling of genius are no longer visible. It only remains to imagine the life of a mere mortal man, like Picasso. With his style of drawing, the artist wanted to "destroy God," for this reason he was defiantly self-confident in himself, but, as you see, everything ended in his self-destruction.





(
1
votes, average:
5.00
out of 5)
Description of the painting by Pablo Picasso "Self-portrait" (June 30, 1972)